Hi divers
We've had really odd conditions in False Bay this past week – some absolutely spectacular visibility, mixed with some decidedly brown, murky water. Conditions last Saturday were good underwater, but the wind was far too strong and the surface conditions were too bad for new divers so we called off the second Open Water dive that day.
Last Sunday we did two boat dives in False Bay, the first of which featured some truly awful visibility (picture above), and the second of which (picture below) boasted some of the best visibility that one ever sees in False Bay. There's been an extensive red tide which has been visible from Boyes Drive for over a week, and this is seriously affecting the visibility in certain areas of the bay.
There was a very strong surface current (and current underwater) during last weekend's boat dives, and we were reminded of the importance of carrying a signalling device such as an SMB, and a whistle on your inflator hose to call the boat. If you need an SMB, Andre in Simon's Town has some very good ones which are not negatively buoyant, making them much easier to inflate while you're below the surface.
We had 15 metres of visibility on the Clan Stuart on Monday, which is truly unusual for this wreck as it's quite exposed. There seems to have been some water mixing going on over the last few days, however, and today there were patches of clean water interspersed with pockets of green, milky water at Windmill and Long Beach. The wind is blowing from a favourable direction, however, so we hope it'll clean the bay a bit more before the weekend.
Weekend diving
Tomorrow I have Discover Scuba divers at Long Beach, and then some time in the pool. The weekend is chock full of Open Water and Discover Scuba Diving dives, so I'll spend most of the time at Long Beach and, conditions permitting, Windmill, A Frame and/or the Clan Stuart.
If you'd like to tag along give me a shout. A shore dive at a familiar site is the perfect opportunity to hone your skills and test new gear.
Student news & travel
Congratulations to Gerard and Goot, both of whom have just (about half an hour ago) qualified as Enriched Air and Deep divers. These two courses are a very good idea if you plan to dive a lot in Cape Town, and – as I told them this evening – after finishing them, they're complete divers who will only benefit from further experience.
We also found this picture of Cecil that was taken on his very first Open Water dive, late last year. Compare that to his recently-acquired cave diving qualification… Time flies! This time last year Kate was also with us, finishing her Advanced course and on the way to Divemaster. She's now a fully-fledged PADI Instructor, having qualified in June in Sodwana.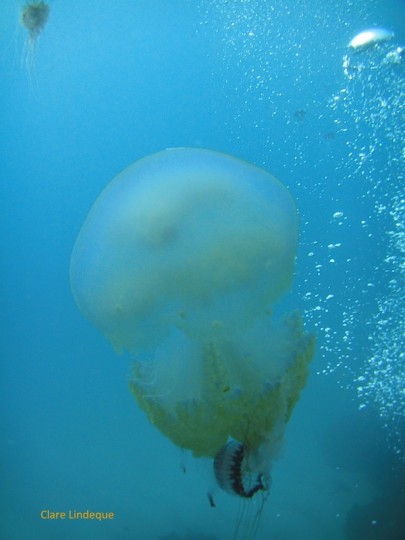 While on the subject of current and former students, Tami, Keren and Nils have just finshed some (apparently wonderful) dives in the Red Sea as part of a family holiday to Israel. We're looking forward to hearing about their trip when they get home.
If word of all this dive travel is giving you itchy feet, fear not: we have not forgotten about a dive trip for early next year, and will keep you posted as the plan emerges!
Clare and I visited OMSAC in Pinelands last Thursday evening for a talk on SASSI, and plan to visit again on Thursday 24 November to listen to Alistair Downing from Underwater Explorers talking about West Coast wrecks. OMSAC is a friendly, vibrant little club and we felt very welcome there even though technically we are members of their rivals FBUC! I will remind you of Alistair's talk closer to the time – it's a good opportunity to visit the club.
Regards
Tony Lindeque
076 817 1099
www.learntodivetoday.co.za
www.learntodivetoday.co.za/blog

Diving is addictive!