Hi there everyone
We have had a run of good diving of late, between the ocean and the pool I have been fortunate to be underwater almost every day for the last week and a half and it seems set to continue for the next few days. For this time of year the weather has been relatively mild and we have had half decent visibility and not too cold water. Today the visibility at Long Beach was 5-6 metres and the water 16 degrees. The ocean treated us to a display of the smallest short tailed stingray I have ever seen.
I consider myself very honoured right now having been requested to teach a young man who doesn't have full use of his legs to dive. It is surprisingly easy to take what most of us have – full use of all our limbs – totally for granted. Be warned that the next diver to complain about the weight of their dive gear will be the lucky winner of a lecture from me!!
Most of you know Cecil, and well we wish him well as he starts his cave diving training today in a sinkhole somewhere in the middle of nowhere. Cecil started diving late last year and has to date done Open Water, Advanced, Deep, Nitrox and twin tank diving courses in preparation for his next step. His goal for the end of the year is a cave dive in Borneo!
This weekend
Saturday we are on the boat for an early launch… well, early for some… and we will visit a new site called Atlantis. This is a newly discovered site and I dived there last week Monday for the first time. It comprises two stunning pinnacles that start at around 6 metres and drop of to almost 30 metres. I have never seen such big schools of fish or such a diversity of life on any other site in Cape Town as yet.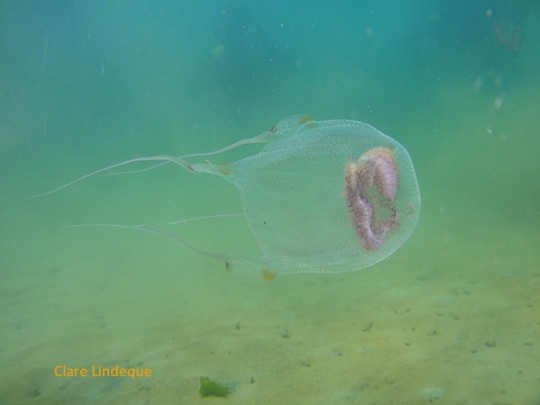 After the boat dive we plan to dive at A Frame and then move to Long Beach for a third dive.
Sunday is a little uncertain at this point as a southeaster is forecast but hopefully it will arrive later in the day so an early start will again be required… I hear Clare groaning…
Other stuff
The Dive Site magazine has just changed from being free to being on a paid subscription basis. If you subscribe within the next week you can get it at R120 for four issues, a special discounted price. Even if you have to give up one of your other magazines, diving or otherwise, do it! It's the best diving magazine in South Africa.
Today was International Suit Up Day so I certainly hope you all suited up for work… I know I did.
Tony Lindeque
076 817 1099
www.learntodivetoday.co.za
www.learntodivetoday.co.za/blog
Diving is addictive!