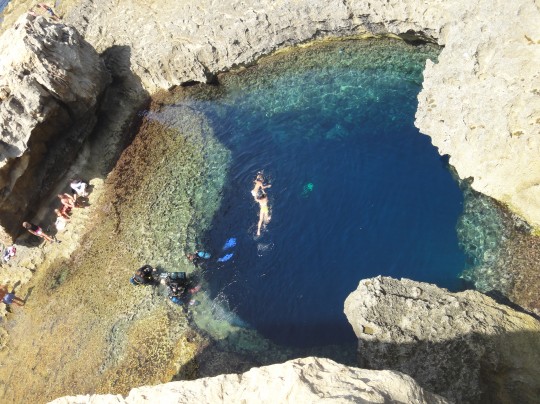 The Blue Hole is a sinkhole or collapsed cavern in the limestone at Dwerja near San Lawrenz, on Gozo, one of the three islands that make up Malta. It's about 10 by 5 metres, and the entry point is reached via a slightly rough (but not too bad) walk over the rocks. There are stairs and handrails in places, as this is a spot heavily frequented by tourists and divers. A shallow pool with quite a knobbly bottom surrounds the Blue Hole on the landward side, and we staggered across that and flopped into the Hole itself to put on our fins.
Descending into the Blue Hole is magical – almost as soon as you submerge, an arch stretches across before you, opening the side of the Blue Hole out to the open ocean. The view is spectacular whichever way you look. We spent some time admiring the sunlight filtering down into the hole, and then swam under the arch and out into the open sea.
The dive was through what we by then recognised as typical Maltese limestone reefs, with eel grass, posodonia, and a host of sponges and sea plants covering boulders and valleys that resemble a terrestrial landscape. The highlight of this dive (and perhaps of the trip) was encountering a bluefin tuna, who spent nearly half an hour following us and swimming into our faces. I felt so moved that I became annoyed with the confined feeling I was suddenly experiencing in my mask and regulator – I wanted to share this with someone, discuss it, laugh at how he made munching movements with his mouth every time he came near us, and lament at how lonely he seemed.
Next to the Blue Hole is the Azure Window (Tieqa Żerqa in Maltese). It is a natural flat-topped arch, about 23 metres high. The arch is apparently slowly disintegrating, with pieces of limestone frequently falling from it. It is expected that in a few years the arch will be gone, and we will be left with the Azure Pinnacle. We swam back under the Azure Window at the end of our dive. I must admit I didn't realise we were doing that at the time! It's a spectacular piece of scenery.
At the base of the Blue Hole is a dark cave, which we briefly explored (we were a bit low on air so neither of us wanted to go too far in). There are convenient ledges and lots to look at around the five metre mark to do a safety stop. We were entertained by watching snorkelers from beneath, and other divers outside the arch leading to the open sea, as we degassed.
Dive date: 4 August 2011
Air temperature: 32 degrees
Water temperature: 23 degrees
Maximum depth: 27.2 metres
Visibility: 35 metres
Dive duration: 50 minutes