I've never done a night dive off a boat before, and never gone deeper than about 12 metres on a night dive, and so it was with mixed feelings that I signed up for a night dive on the MV Aster in Hout Bay, on the evening of 17 September. We'd spent the morning diving in Hout Bay harbour as part of an OMSAC-organised underwater cleanup, and in the afternoon Underwater Explorers was running some boat dives. The visibility on the 2.30pm dive we did on the Aster was passable – not midsummer Atlantic clarity, but a respectable 8-10 metres. I spent most of my time on the deck in the centre of the wreck, on top of the bridge, and around the base of the mast. A strong current was pushing into Hout Bay. The wreck is at about 30 metres on the sand, and the deck is at about 24 metres. The top of the bridge is at 19-20 metres.
We launched for the night dive just before 6.30pm. On the boat was Tony, who has done lots of night dives (many off a boat, too), me (who has done lots of night dives, but all shore entries close to the city lights), Tami (ditto), and Goot, Gerard and Cecil, who were all doing their first night dive EVER. I don't think they realised how awesome they were… Descending 25 metres onto the deck of a wreck, into the 11 degree waters of the Atlantic, in the dark, is something quite special!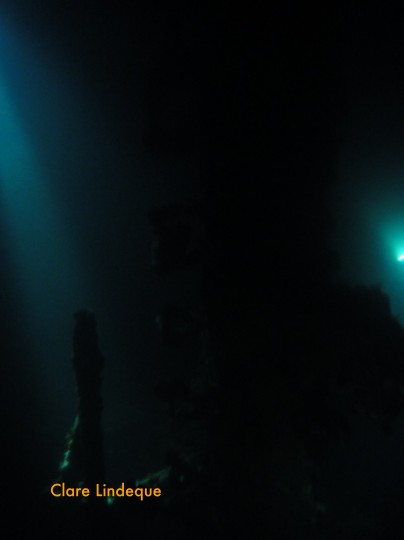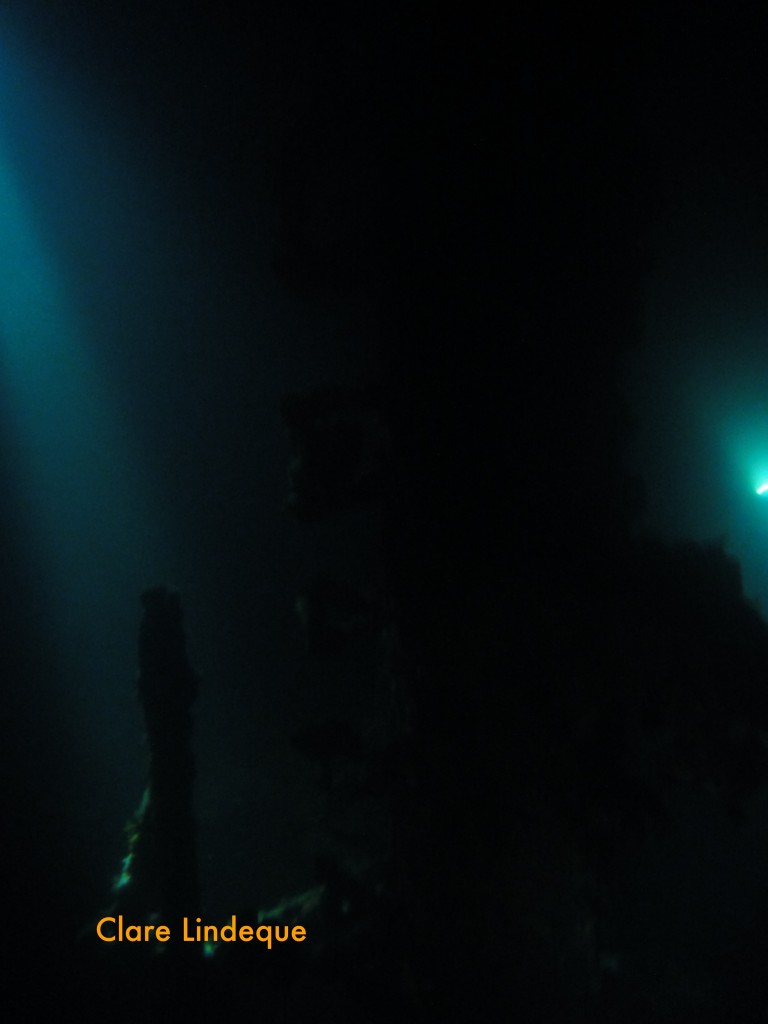 We rolled into the water just before 7.00pm, and descended on the shot line. The first few moments were quite disorienting – it was very dark, much darker than the surface conditions hinted it would be, and it took a few moments for my eyes to adjust and for me to figure out where I was on the wreck. Soon I was more relaxed, and I managed to hunt down the tiny basket stars I'd found on the afternoon dive so that I could show them to Tami. I was glad that I'd done an afternoon dive on the same site – it helped with orientation in the dark, and I enjoyed going back to places where I'd seen things a few hours earlier to check whether they were still there.
Tony and I were wearing our Christmas strobes – awesome little gadgets except that the gaps between the flashes can be a bit long when trying to do a quick head count. We also had multiple cyalumes and some rather old glow in the dark Bright Weights (weights is a misnomer here – they are in fact positively buoyant). Those didn't work too well, but we're not going to give up on them just yet – perhaps more time under a bright light and/or in the sun will charge them better.
Doing a safety stop in the dark is a challenge. I didn't realise how much I rely on having a visual reference – even just watching the depth on my dive computer – to manage my buoyancy at the end of a dive. Using other divers as a reference is not ideal – what if they're using ME for a reference too? This dive was the first time I've used the backlight on my Suunto D6 since I've had the computer (about 40 dives), and I realised that the default setting it's on (illuminates for 5 seconds) is hopelessly and irritatingly too short for a safety stop in the dark. I was also wearing an unbelievably buoyant second wetsuit over my usual Mares Trilastic, which had me shooting towards the surface like a very large cork every time I broke the five metre mark. All this aside, we managed – all of us, together – a safety stop, and then we were on the surface around the buoy, looking for Richard and the Underwater Explorers boat.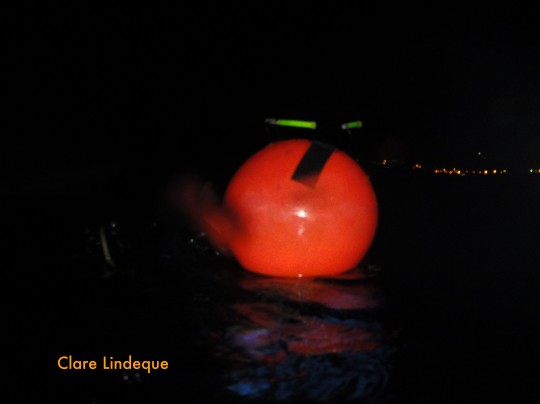 It was very, very peaceful on the surface (until Gerard started on about the crotch strap of Cecil's new Poseidon wing, purchased for his forthcoming cave diving adventures), and the air wasn't cold at all. Getting on the boat was a bit of an exercise – dive gear being predominantly black. The boat was far enough from shore that there was very little ambient light to assist the skipper and us in stowing our kit properly, but Richard was organised and quick, and we managed. We had a wait of a couple of minutes for Alistair and his two buddies (all on twins) to surface, and then we headed back to dry land, a warm shower, and the deep sleep that always follows a day of diving.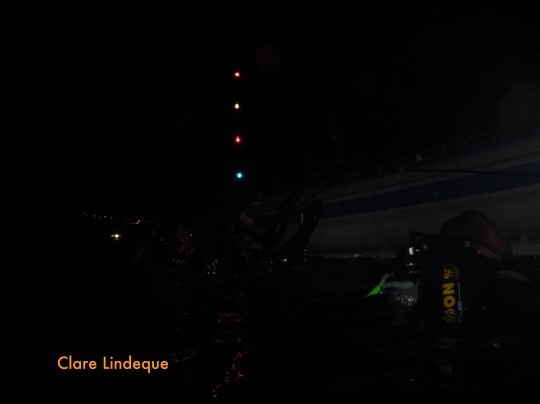 Dive date: 17 September 2011
Air temperature: 23 degrees
Water temperature: 11 degrees
Maximum depth: 25.3 metres
Visibility: 10 metres (always tough to estimate on a night dive, but we did do a dive at the same site a few hours earlier)
Dive duration: 27 minutes