Hi divers
What we have been up to
For those of you that did not make it to the ocean last weekend I can truly say you missed out big time!! The OMSAC clean-up dive on Saturday morning was really enjoyable with some amazing articles being removed from Hout Bay harbour. True to form OMSAC ran an excellent event with everything happening on schedule. After the clean-up we dived the Aster wreck. We dived on Nitrox to maximise our bottom time and penetrated the forward hold. Goot and Gerard were doing their Nitrox specialty dives, Goot had a taste of wreck penetration, and Cecil was also test diving his new twin tank setup so we had a ''busy'' dive.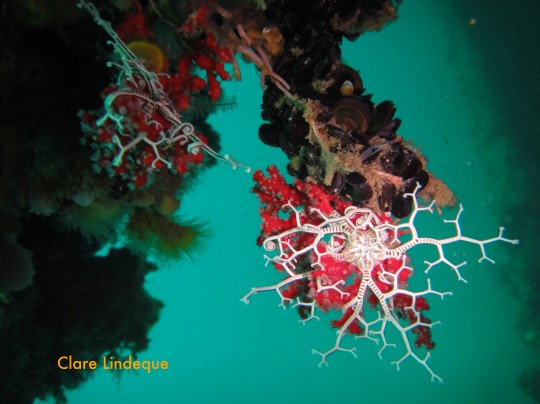 Back on dry land we waited out the sunset and then went back out to the Aster for a night dive. The conditions were great, visibility 10 -12 metres and cold water (11 degrees) on the bottom. Night dives to the deeper wrecks are more challenging than shore night dives so a big well done to the guys and girls that joined.
Talks
On Tuesday evening we attended a talk and slide show at Dive Action. Barry had done some diving in a fjord in Norway and recounted the trip with a lot of info and photos of the dive centre there and the wrecks. He also talked us through the logistics of diving far from home with a few hundred kilograms of dive gear. As you know I have absolutely no knowledge of rebreathers so if you want to know more about diving with a re-breather then Barry is the man to see.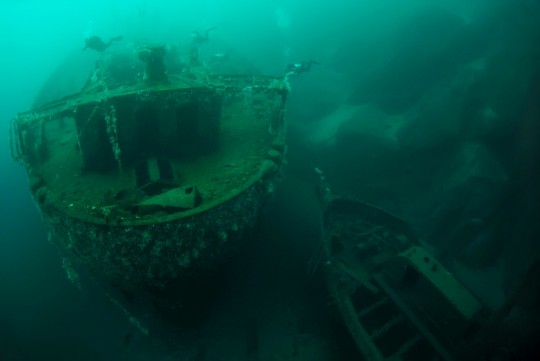 As you can see in this photo (courtesy of Gulen Dive Centre, kindly shared with us by Sarah from the Dive Action team), the visibility in the fjords is something else. It was taken at around 30 metres and the wreck on the right sits on the sand at over 55 metres.
This evening we attended a talk at the Save Our Seas Shark Centre by George Branch… He is one of the authors of the Two Oceans book and is an almost legendary figure in South African marine biology. The talks at SOSSC are always very good and are always ocean related so you should make an effort to attend a few… You are never too old to learn something new!!! Visit their facebook page and like them and this way you will be informed of their activities. Their page is constantly updated with some stunning photos and lots of info on sharks.
Hyperbaric chamber
Clare and I were taken on a tour of the hyperbaric medical facility in the Kingsbury Hospital in Claremont today. It is the only chamber of its kind in Cape Town and is used for many forms of medical treatments not related to diving, but should you have a  problem on a dive and get DCS, this is the place you will go! This centre is also home to one of the most respected diving doctors in South Africa. As a diver you should have DAN Medical Insurance and you should know where the nearest chamber is, how to get there and who to call. All of this information should be in your log book. Their website is here. We will post a detailed report of this visit on the blog soon. This is a fully equipped medical facility and a lot different to the chamber we did our 50 metre chamber dive in!
What we are going to get up to
Training
Saturday is pool day and if you want to join and play with your gear and buoyancy text me before 2pm Friday. The cost to scuba dive in the pool (if you're not on course) is R50, and if you just want to swim it's R7. We are still busy with Deep and Nitrox Specialties which we will continue with early Sunday morning, launching out of Hout Bay at 7.30am. The boat takes 14 and we are already confirmed for 10 people so text me quickly if you are in.
After the boat dive we will move to False Bay and then do dive 3 & 4 for a few Open Water students. If the conditions are good we will try the Clan Stuart or A Frame. The visibility in the bay at the moment is 10 – 15 metres and despite some southeaster for the next two day I doubt it will do too much harm so diving will be good.
Scubapro Day – 1 October
Scubapro are having a ScubaPro Day in the Simon's Town yacht basin on 1 October. They will allow you to test dive the latest gear from their range. There will be food, drinks and goodie bags plus lots of divers and other kinds of people. Boat dives are going to cost R100 and R25 gets you a goodie bag and registration at the event. I have booked 12 places on two dives on the boat, big brother to this boat.
If you want to participate you need to book and you need to do this soon. Boat dives at R100 don't come round too often so book this week or lose out. You will need to book and pay by Tuesday next week for this event. The dives are at 8.00am and 2.00pm.
Travels
There is a trip to Mozambique on the weekend 4-6 of November. It is a five dive/three night package that starts at R1850. You will need to mail me for more info as it is a trip shared with a dive centre in Durban and will need some quick decisions.
Reminders
A diver is currently in jail in Cape Town for diving without a permit… Don't let it be you… Get a permit if you don't have one.
Book for the boat for Sunday and October 1 (ScubaPro Day) NOW!
Bye for now,
Tony Lindeque
076 817 1099
www.learntodivetoday.co.za
www.learntodivetoday.co.za/blog
Diving is addictive!