Hello diving people
Let's skip the weather.
Travel
We are long overdue for a dive trip. The last two trips we did as a group, to Sodwana, were extremely enjoyable but most of the regular trippers are looking for something new.
Mozambique
There are two options currently being investigated. We can go to Ponta Do Ouro, a little over 100 kilometres north of Sodwana, or to Inhambane, a little over 650 kilometres north of the border between South Africa and Mozambique. We'd fly to Johannesburg in both cases. To get to Ponta we'd rent cars and drive to the border, where we'd be picked up by the dive centre and driven the 7 kilometres over the dunes into Mozambique, to Ponta. If we went to Inhambane, we'd fly from Johannesburg to Inhambane with LAM, which costs about R3,500.
Sodwana worked out at around R3,500 per person all in all, but Mozambique is way more expensive. For Ponta we would probably get away with around R5,000-R7,000 all in and Inhambane will be around R7,000 – R10,000 per person, depending of course on how many dives we do, how long we stay (we're thinking four to seven days), and what sort of accommodation we choose.
Any of these packages would include flights, cars, dives and accommodation. Before you fall over clutching your chest I can tell you that just dives alone are almost twice the price they are here at home or in Sodwana. Everything costs more there and it has a lot to do with the remoteness of the place. I worked in Ponto and there are no Game stores, Woolworths or even 24 hour fuel station shops. Everything is transported from SA on 4×4 trucks so that is the main reason for the higher costs. These remote locations are seldom ever cheaper than Sodwana as some of the operators charge R270 – R350 a dive. However I must say the diving and the reefs are stunning. There are a few videos on my YouTube page that show some of the diving you will experience.
We're thinking of going during April or May, and we'd try to get low season prices, so it would be outside of school holidays and long weekends. We'd use Simply Scuba in Ponta do Ouro, or Jeff's Palm Resort in Inhambane – go check out their websites. I've attached the list of dive sites close to Jeff's Palm here, for you to peruse (and drool over).
To get decent prices we need to have some idea of numbers so text or email me if you think you might want to come along.
Training
We are busy with Open Water and Advanced courses, and Deep and Nitrox Specialties. Most of these courses still have space so jump on if you want some more experience.
Courses may seem expensive at first but for example if you did five casual dives on your own (with a buddy of course) with rented equipment over three days doing two shore dives and three boat dives you would each spend around R2,000 – R3,000 depending on how many dives you did each day. The average price in Cape Town for gear rental and a boat dive is around R500. Thus by doing a course you also receive a qualification, something that most dive centres around the world will want to see before you can join some of their dives.
Weekend plans
There is a swell smacking the bay tomorrow which will cut diving out on Saturday. I will have a pool day with new students so if you want to play the fool in the pool, text me.
Sunday we are on the boat for both launches, the first being a deep dive to the Smitswinkel Bay wrecks and the second will be to the wreck of the SAS Pietermaritzburg.
Last week's diving
Last weekend we had some good diving on the MFV Orotava, one of the five Smits wrecks, and the second dive to Roman Rock. The visibility was great and the surface conditions not too bad. Tuesday we dived on Photographer's Reef and had just got out of the water and back to shore when the wind picked up. Diving was great – this is a magnificent site.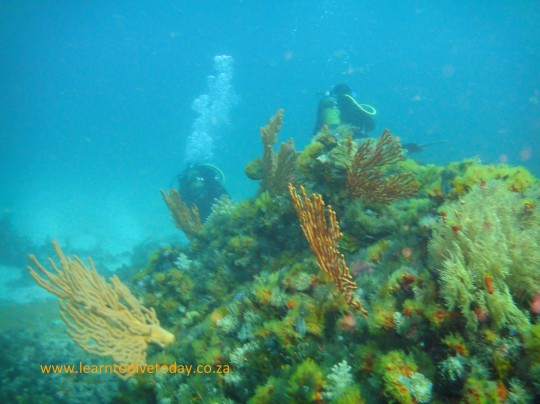 Dumb diving
I have been asked what DUMB DIVING is… Well let me give you an example.
Dumb diving is rolling into the water, descending and finding the cover and batteries from your video light lying on the seafloor waiting for you when you get there… And watching another piece of your rig float slowly down in front of your eyes. The word dumb comes to mind! Note to self: tighten video light cover securely before entering the water!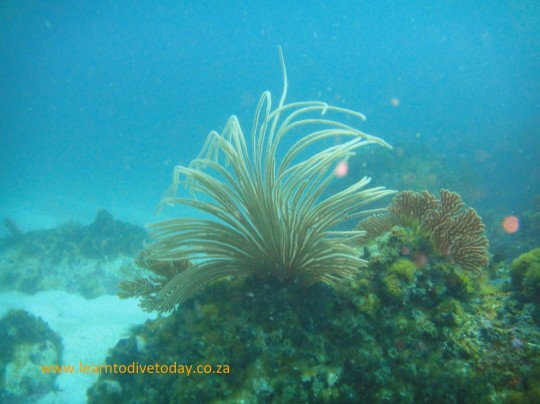 regards
Tony Lindeque
076 817 1099
www.learntodivetoday.co.za
www.learntodivetoday.co.za/blog
Diving is addictive!