The Atlam Sub Aqua Club (Atlam is Malta spelled backwards) put this commemorative plaque and statue of an old fashioned diver's helmet up in 2005 to celebrate their 50th anniversary. It's located in about 28 metres of water on the way to the Um El Faroud off Weid iz Zurrieq in Malta, one of the most magnificent wreck dives in the Mediterranean, and as such provides a useful navigational aide.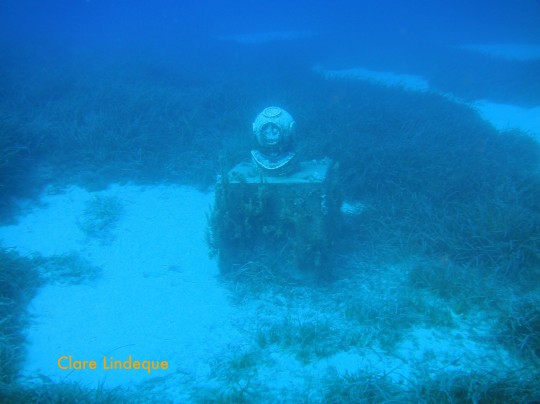 While we're on the subject of diving helmets, here are two more that we found on our travels…
The dive details below are for the dive on the Um El Faroud during which we visited the plaque.
Dive date: 5 August 2011
Air temperature: 31 degrees
Water temperature: 22 degrees
Maximum depth: 34.3 metres
Visibility: 20 metres
Dive duration: 49 minutes