The Shark Chronicles – John A. Musick & Beverley McMillan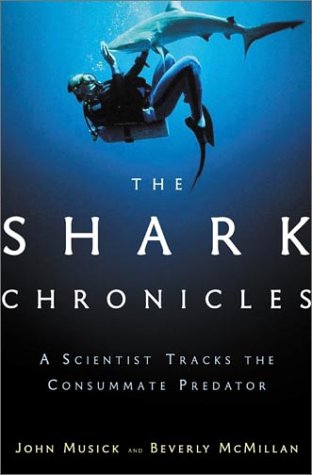 Aaaaah. Finally. The book I've been looking for. This isn't a heavy tome, and it isn't an ego-fuelled rant by a celebrity-wannabe shark researcher. It's a tour of shark biology, ecology and everything else, from a scientist who's been working with elasmobranchs for decades. The presence of his writing partner (and wife) ensures that the book is accessible and readable.
Musick writes about sharks in general, covering everything you might want to know about them. He deals with shark evolution, the variety of sharks that exists, their sensory organs and abilities (impressive), reproductive biology and practices, their habitat and movements in the sea, and then delves into the subject of man's interaction with sharks: bites, cancer drugs and fishing.
His experience in the field lends weight to the text, but I was upset to read the sections from his field notes about catching scores of sharks for study purposes. I'm naive in this sense – I understand that some things you can't find out except by cutting the creature open, but it's still awful to read about hooking five different species of shark on a long line and killing them.
This book was full of interesting nuggets and as usual Tony had half of it read to him before I was done. He's reading it now! If you're after a popular science shark book that covers all the bases, this is it.
You can get a copy of the book here.