There are loads of dive computers available today and it can sometimes be difficult deciding what to buy. In my opinion a dive computer should be sold with the required download dongle and the software required to manage your logbook digitally. If you take diving seriously then looking at your profile on a computer adds real value to the experience.
Importers also run specials from time to time where the download cable is free which leaves a bad taste in your mouth if you just forked out over R1000 for the cable a few weeks earlier! I am a regular diver so the ability to change the battery myself is an important feature for a computer. Some dive computers require they go in to a service centre (often far from home). After a few battery changes I usually replace the rear cover as well as they tend to become a bit rough once they have been removed a few times. The manufacturer recommends a new cover with every change… but then they would as a battery change costs around R20 if you change only the battery, but around 5 times that for the rear cover.
Citizen
The first instrument for diving I owned, and still wear today, is a Citizen dive watch. It is a far cry from a real dive computer as it records only your last two dives, depth, dive time and water temperature. It does not show you deco or permissable dive time at  depth. Years back when dive computers were very expensive this was a very popular option. It is rated to 200 metres, way deeper than I am ever going and has one downside: a battery change and vacuum seal can only be done in a few places in South Africa and costs around R700.
Aladin Prime
My first dedicated dive computer was an Uwatec Aladin Prime: an easy to use air nitrox computer with terrific software. Only two buttons for all menu options (essentially a four button computer as each button had two pressure points but due to their close proximity to each other a little difficult to use with gloves on). Downloading is easy as the computer has an infrared port as does my laptop but a USB infrared dongle is very cheap if your computer does not have an infrared sensor.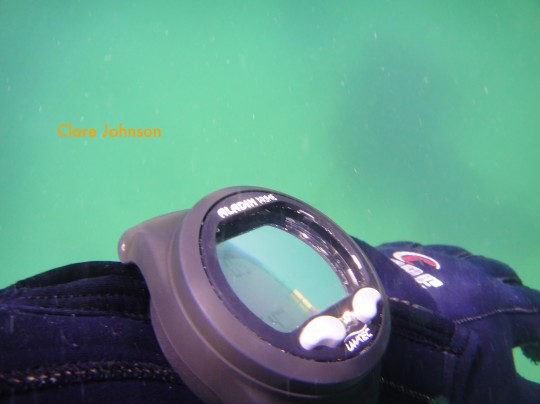 Suunto Zoop
My second computer was a Suunto Zoop. Again an easy to use (three button) computer with buttons far apart. This was a big drawcard for me at the time. The downside to this is the download cable is not included in the purchase and cost almost 60% of the computer's price. The software was not as user friendly and the graphics not as good as the Uwatec software, but it still had all the basic information. The computer was plagued for a few years by random shutdowns that never seemed to have any form of regularity. This fault was never found and it sometimes works for month before happening again. This just led to me having very little faith in the unit so it became a backup.
Suunto Mosquito
Next came the now-discontinued Suunto Mosquito, by far the most user friendly computer and a big plus was that the download cable purchased for the Suunto Zoop fitted the download slot on the mosquito. Again it is a four button computer but the buttons are far enough apart that using them with gloves is easy. This computer had one downside for me and that was that it would go out of the Nitrox mode if you did not dive within two hours of setting it. With time the small text has become harder to read at depth (age related eye issue) so an upgrade was required.
Mares Nemo Wide
Enter the Mares Nemo Wide. Four buttons again, but big enough buttons for the aged half blind diver with large screen and big text for the same reasons. This is an amazing computer and by far the best of the lot for me because the screen is easy to read in low visibility and the buttons so large you cannot miss them even if you wear boxing gloves. The software is good and has an easy download interface. The down side was the download cable. Not much more than a mini USB cable with a bit of plastic and a tiny printed circuit with a diode to make it look expensive, this cable costs 60% of the price of the computer which in my opinion is beyond ridiculous.
Suunto D6
Clare dives with a Suunto D6. By far the best in quality, it has a stainless steel housing whereas all the others are plastic. It does have a similar menu and four button system as the Suunto Mosquito but again required the purchase of yet another download cable for a little over R1 000. The software was not useable on an Apple computer so a generic program called DiveLog was found by Clare and she loves it (she will review both the software and the D6 after a few more dives with it). The big advantage of the D6 is the electronic compass so if you do not want to have instruments strapped all over then this is a good buy. Stainless steel is however for more expensive than plastic so take a deep breath when you buy it and make sure it's strapped on securely!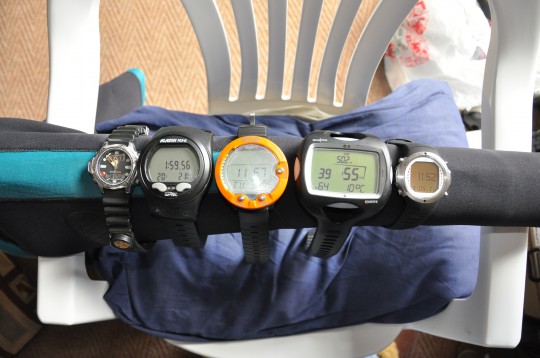 Screen protectors
Most if not all dive computers come with a screen protector. Some have it on when you by them whilst others need you to fork out a few more banknotes to obtain them. I found that they would collect dirt and salt between the screen and the protector and with time they become hazy and spoil the view. For my Mares Nemo Wide Clare bought a pack of stick on cell phone screen protectors and we trimmed one to size and stuck it straight on the screen. It seems to last and this is a very cheap option for a screen protector.