We had a request from a Discover Scuba candidate called Jacques, for assistance in proposing to his girlfriend, Kalika. He wanted to do this during the dive. Being Discover Scuba candidates and not qualified divers meant we had to ensure they were comfortable in the water and enjoying the dive before we could attempt this.
[youtube=http://www.youtube.com/watch?v=sLzk2ew-Jes&w=540]
I also had to be really close, as that is the standard with first time divers, yet far enough away in case she said no and took a swing at him. Well, none of this happened! They were comfortable and enjoying their dive when I stopped them, got them settled on the sand and handed him a slate to write on.
I won't give the details of the slate's contents other than to say there was a "YES!", a fair amount of clumsy hugging in dive gear and a huge plastic and silver dummy engagement ring. Jacques then punched the air… um, water with glee several times a minute for the rest of the dive and swam with great gusto in circles around the rest of us. Needless to say his air was up long before the rest of us but once on the surface the happiness and hugging continued.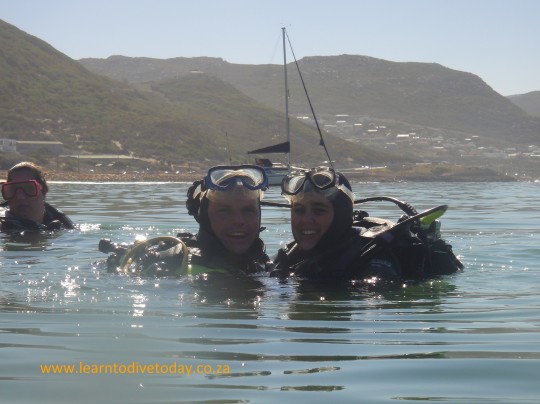 Back on the beach a little fox terrier appeared with a package strapped to his collar and in this package was the real ring. Clare had flowers ready and we handed them to Jacques whilst Kalika was distracted. Within minutes of exiting the water she had a (real!) ring and flowers in her hand and a humungous smile on her face. We also had a video camera (ably operated by the legendary Kate) and a still camera on the dive and were able to supply the couple with a short movie (above) and many photos of the event from start to finish.
Congratulations Jacques and Kalika! We wish you a lifetime of happiness together!