There are a couple of dive sites in Cape Town that you can visit specifically to dive with the local Cape fur seals. There's Seal Rock at Partridge Point in False Bay, and Duiker Island outside Hout Bay. These are both shallow, easy dives around large rocks, where the main attraction is the interaction you will have with hordes of curious seals. You will probably see seals if you go to Seal Island, too, but that won't be to scuba – it'll be to cage dive with the great white sharks there.
The dive sites near these seal colonies are often visited by these furry creatures, and it's an absolute pleasure as a diver to have happy seals around while you're exploring. We've had seals visit us on the SAS Fleur near Seal Island, at Partridge Point, and at the Tafelberg Reef complex. Sometimes you'll see them at Long Beach, and often on the Clan Stuart.
These pictures were taken at Tafelberg Reef during a long safety stop we did there as part of Cecil's Deep Specialty training. They mouthed Tony's head and fins, Cecil's pillar valve (while he was practising alternate air source use), and the bubbles rising from our regulators. They have large, scary looking teeth, but they don't bite hard and as long as you keep your hands to yourself there's nothing to worry about.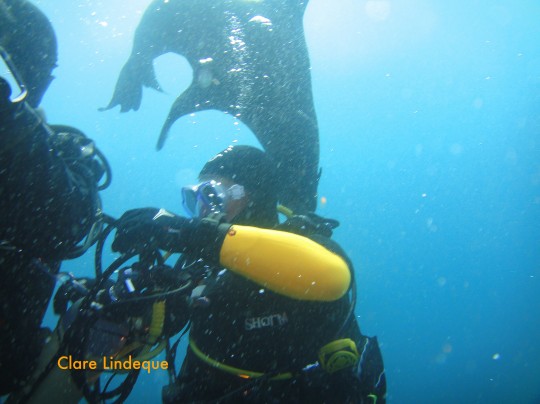 In manner and sometimes appearance, seals are like dogs. Bearing that in mind when you interact with them in the water, and being as cautious with them as you'd be with a large, strange but friendly dog, will serve you well. Have fun!