We have recently returned from another successful dive trip to Sodwana Bay. For those that have not been there, it is a sheltered bay just south of the Mozambique border and is home to one of the top dive sites in the world. The coastline consists of approx. 12-15 kilometres of pristine reef with much of it at a depth of between 12 and 20 metres. There are deeper sites there too but for the vast majority of recreational divers, Two Mile, Five Mile and Nine Mile reef are diving destinations unparalleled in South Africa.
Sodwana Bay has a selection of 10-15 dive operators and they all have something special to offer. We chose Coral Divers on both the trips we have done for a host of reasons. The camp runs perfectly, the food is excellent, the dive planning and beach control is exceptional and they are very accommodating when it comes to divers chopping and changing sites and dives. The boats are in good condition and we had not a single reason to complain about anything. They transport you to and from the beach by means of a covered trailer with benches towed slowly by a tractor, they have gear crates, showers and baths for gear rinsing and adequate place to hang your gear to dry. Their camp is the closest to the beach of all the dive operators which makes things very quick and easy when you head out for your day's dives.
They run a tight ship and everything runs on schedule. There seems to be adequate staff to ensure all this happens. The skipper we had (JERRY!) and the Divemaster (Darryl) allocated to our boat were superb, experienced and flexible. The group was a mixture of qualified divers and Open Water students and they ensured we dived safe sites that were suitable for all levels. You may find better service elsewhere in Sodwana but Coral Divers have ensured that both our trips were exceptional events so I can't imagine trying someone else.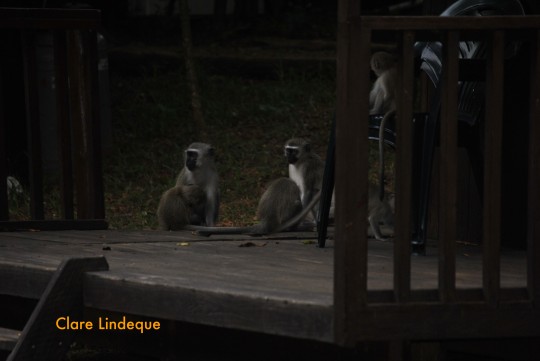 Accommodation options range from safari tents erected on wooden decking with corrugated roofing overhead (on special at the moment for R50 per person per night) to wooden cabins with no bathroom (you use the communal ablutions, which are spotless), a bathroom attached to the cabin but that must be accessed from outside, or a full en suite arrangement. Bedding and mosquito nets are provided in the cabins and everything is in good repair.
There is a large kitchen with self-catering facilities and tons of secure fridge space, or you can order from the restaurant. The food is hearty and there's something to please everyone. A buffet is also available at breakfast and dinner. If you want a cheap holiday you can do it very comfortably here, but it's also possible to have a fully luxurious stay where all your requirements are met.
The shady dive camp is home to large troupes of monkeys, mongooses, some cats and their kittens, squirrels, and even some small deer. Further away from the main building are camping and caravan sites. We've gone out of season both times we've visited because we prefer not to have to queue to get to the beach! It can get very busy over public holidays and at peak times.
As far as the dives went, Clare will write some posts about them. Suffice it to say that while it was slightly surgy, the visibility ranged from 10 to 25 metres, water temperatures were never lower than 23 degrees, and we saw fish, coral, turtles, rays, dolphins, and tropical marine life in abundance!