Hey there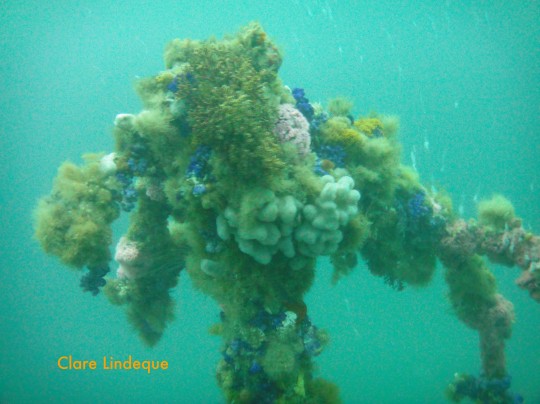 The wind just won't settle so diving is still a little unpredictable. We did however have really good diving last weekend and again yesterday. We dived one the Smitswinkel Bay wrecks, the MV Rockeater on Monday and had around 10m visibility with coolish 11 degree water. It is amazing to see how a once majestic ocean-going vessel rusts away whilst creating an incredible amount of protection for a host of ocean creatures. A torch or video light reveals the mass of colour that adorns everything in the ocean despite the depth.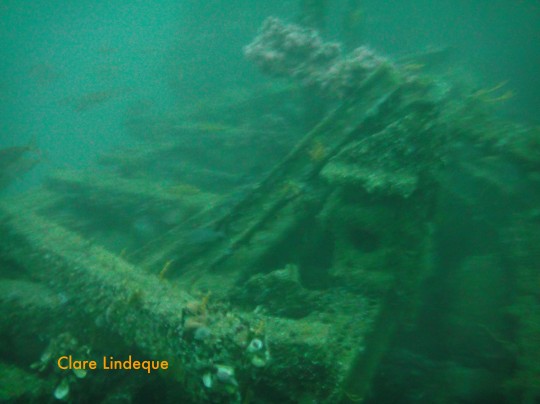 The next launch took us to Wonder Reef in the Castor Rock reef complex, and the visibility was not quite as good as it was a shallower dive but still acceptable. Cecil and Gerard recovered an anchor (the second one for Cecil) with a lot of chain and surfaced it with the help of an SMB. It is always good to have an SMB – primarily for the boat to find you – but it is a valuable piece of equipment for treasure recovery… Who needs a lift bag?
We also dived on Wednesday, when Kate and I dived with Andrew to do a search and recovery dive for his Advanced course and used a lift bag to move a crate full of rocks around at Long Beach.
This weekend all the dive charters are staying indoors as the southeaster hits tomorrow and blows until Sunday evening. We will be in the pool on Saturday so the wind will not affect us but Sunday seems like a stay home day…
Courses
We are busy with Open Water, Advanced, Deep Specialty, Rescue and Divemaster at the moment but these are almost done. With the visibility improving as we go into the winter months I want to run Digital Underwater Photography and Night diving Specialties. Night diving has a special appeal for me as there is so much to see at night that just hides all day long.
Remember I dive all week long so when the office gets you down take as day off and come diving. I call it aquatic therapy.
best regards
Tony Lindeque
076 817 1099
www.learntodivetoday.co.za
www.learntodivetoday.co.za/blog
Diving is addictive!