We usually have to go quite far out at Long Beach – to six or seven metres' depth – in order to find the brittle stars. They're rarely alone, seeming to prefer to congregate in large, loose groups.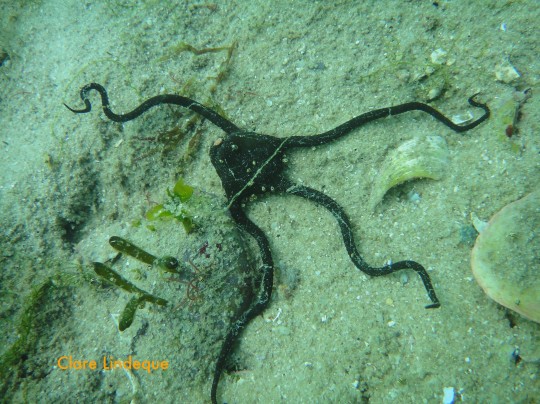 In a previous post about brittle stars I asserted that they, like starfish, are able to regenerate lost limbs. In truth, until a recent dive at Long Beach, I'd only seen one brittle star with a less-than perfect physique.
What a sight met me on this recent dive! It appeared as though full scale battles had raged through the brittle star colony (at least, that's the picture my mind painted for me). A large number of the stars had stumps in place of a limb, and some of the wounds looked quite fresh.
I'm sure they hadn't been fighting amongs themselves – perhaps a troupe of hermit crabs had passed through and nipped off some legs with their claws… The starfish have to be removed from the Touch Pool at the aquarium every evening, otherwise the hermit crabs nip at their limbs!