Filling cylinders is the bane of the regular scuba diver's life. It's expensive (R40 for a tin of AIR?), time consuming, and generally involves either leaving one's cylinders at a filling station and returning to collect them later (sometimes a risky proposition – you could come back to find your pillar valve has been swapped for an older or dodgier one…), or waiting at the dive centre to have them filled (boring, waste of time, inducement to eat junk food, and so on).
We get free air fills as members of False Bay Underwater Club, but when I dive daily I go through a lot of cylinders. Also, we can't save up all the empties for a Wednesday evening – the other club members would give us the boot!
This is why we are so proud and pleased to announce the latest addition to the Lindeque family.
We recently acquired a small 70 litre/minute 3 stage compressor. Manufactured in Germany, the unit is well put together and appears rugged. The filter tower is a simple yet effective unit and can be serviced in less than an hour. Driven by a Honda petrol engine it is a bit noisy for running in your living room, but in a parking lot such as Long beach or any other dive site for that matter its perfect. It is manufactured by Mohnsam and has a single filling whip with a pressure relief valve and gauge on the end of the filling whip. I have run the compressor for close to 8 hours now and have had no misgivings.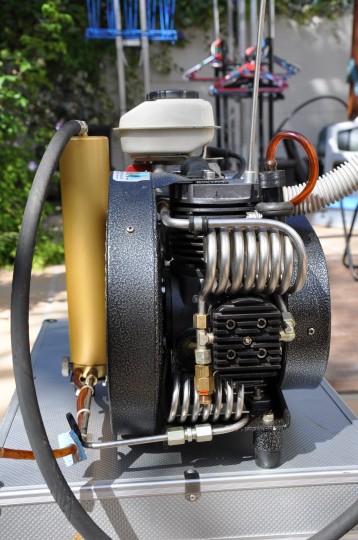 The unit is light enough for carrying with one hand and slots into a very small space as it is compactly built. On an average day we will often have  in excess of 120 bar left after a 60 minute dive at Long Beach, and this will cost as much to top up as an empty cylinder at most fill stations so it is very useful to have the freedom to fill your own cylinders.
With a petrol engine driving the compressor it is versatile and can literally be used anywhere. The drawback with a petrol engine is to ensure the exhaust gas does not come close to the compressor intake so as a precautionary measure I have extended the air intake by means of a section of pool pipe and can thus ensure it is well above and upwind of the exhaust fumes.
This baby will be a regular at Long Beach from now on, where I can fill cylinders in the parking area after diving with students, while waiting for the gear to drip dry before I pack it in the divemobile. She's even small enough to come with us to Knysna, where we can dive as much as we want when we go houseboating.