The current Deep Specialty we are running took us to visit the wreck of the SAS Fleur last weekend. She lies in 42 metres of water in the middle of False Bay. It was a 25 minute boat ride from our Long Beach pickup on a flat calm sea.
This is the sister ship to the SAS Somerset moored behind the Two Oceans Aquarium and the rounded form is clearly visible along the length of the hull. The Fleur was sunk by naval gunfire near Simon's Town on 8 October 1965.
We descended on the shot line and slowed at 20 metres. We were already able to see the whole wreck below us – the conditions were exceptional but it was quite dark. We stopped briefly at 25 metres to ensure everyone was in good shape without any nitrogen narcosis, dropped a little lower to 30 metres and checked again. A final check took place at 35 metres on the deck of the wreck.
The ship is rusted extensively and most if not all the decking and side plates are rusted through, giving you an extremely clear view of everything inside the shell. We found several sleeping pyjama sharks and a catshark inside one of the hatches on the deck of the ship.
The visibilty was a good 10 to 12 metres on the wreck with a water temperature of 14 degrees. There was a strong current running parallel to the orientation of the ship on the sand. Large schools of fish hung over the wreck, facing into the current.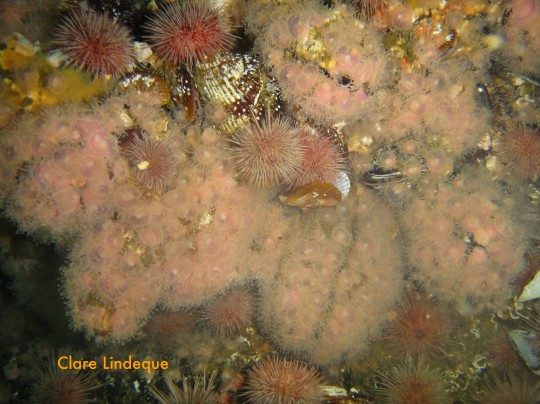 The wreck is heavily encrusted with mussels, each of which is in turn encrusted with strawberry sea anemones in beautiful shades of pink. There are many urchins, and also some large tube worms, which really give the feel of being in deep water!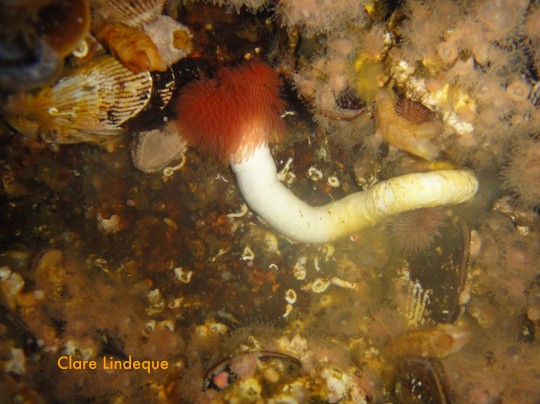 We returned to the line and started a slow ascent with a stop at 20 metres, 10 metres and finally a 5 metre stop. We deployed SMBs as we started our series of safety stops, because given the exposed nature of the site and the possiblity of seeing sharks on the way up, it was very important for Grant to know exactly where to expect our heads to break the surface.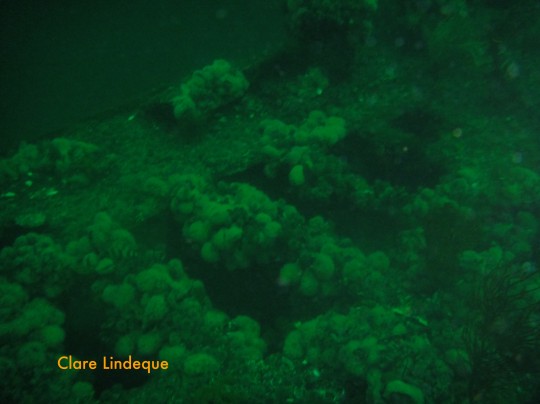 Cecil, Clare and I were using 15 litre Nitrox 30% cylinders, and ascended with plenty of air to spare. We were entertained by seals at our safety stops, and a large group of them frolicked near the dive boat as we waited to climb in after the dive. The dive site is quite close to Seal Island, but happy and comfortable seals indicated that we didn't need to worry about sharks that day.
This is a spectacular dive, and we were very fortunate to do it in perfect conditions.
Dive date: 2 April 2011
Air temperature: 23 degrees
Water temperature: 12 degrees
Maximum depth: 36.4 metres
Visibility: 12 metres
Dive duration: 29 minutes