Hello everyone
The new consumer protection act prohibits the sending of unsolicited mail so if you want to opt out of these newsletters send me a mail with the word REMOVE in the subject line.
Recent Dives
The weather is changing, many weeks of planned launches being cancelled seem to soon be a thing of the past. Last weekend we went to the quarry in Somerset West to find some depth for the Deep diver specialty. The water looks clear and inviting but soon gets dark.
We descended down the line below this buoy at Blue Rock Quarry (above). Below are the walls of the quarry, while the water was still fairly shallow.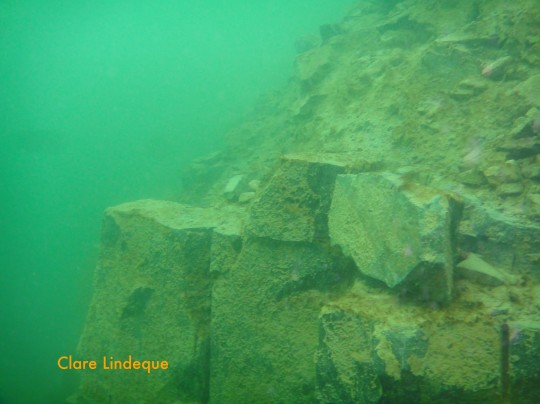 This photo was taken around 30 metres, where it's dark and obstructed by large dead trees.
On Sunday we went to Long Beach for some rescue skills and for Cecil to get used to using a sling tank, a requirement for deep technical diving and cave diving, something Cecil is preparing for.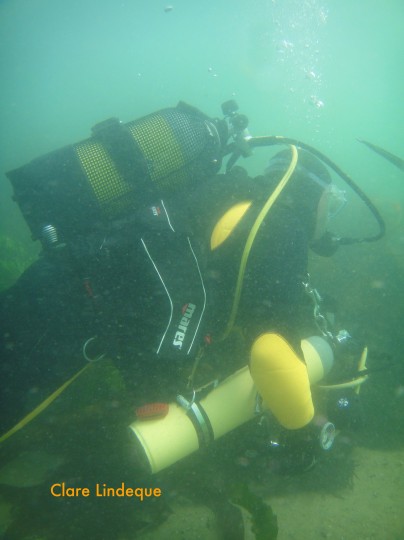 Here's a picture of Clare exhaling into her SMB. A good way to fill an SMB rather than using a regulator (your octo): you can hold your SMB open just above your head and exhale into it.
On Tuesday I started a new Open Water course and we dived in a warm 19 degree water with 6 metre visibility.
Sodwana
The Sodwana trip is close and we leave on the 16th April for a four night, 6 dive warm water experience. For anyone that has suddenly decided "why not?" there are still places, it won't be too bad diving there as the water is only 27 degrees at the moment and the visibility is a little poor for Sodwana, about 25 metres . The diving and accommodation is around R1800 for four nights and six dives including tanks and weights. You will be hard pressed to find a better location than Sodwana within such easy range of Cape Town.
This weekend
On Saturday we are diving the wreck of the Fleur at 0830. This is the sister ship to the grey ship moored outside the Two Oceans Aquarium and I believe she was scuttled in the bay not too far from Seal Island and lies on the sand at around 42 metres. This is a dive for Deep Specialty only.
The next launch will be shallower with a maximum depth of 18 metres and will be a qualifying dive for several Open Water students. There is space on this launch for now, Grant will launch from Millers Point and then pick us up at Long Beach. Please SMS if you want to be on the boat.
Sunday we will dive the sevengill cowsharks, weather and swell permitting.
Courses
The weather is good so I have new courses running every week. We have Open Water, Deep, Rescue and Divemaster courses running at the moment but the conditions are getting to be ideal for a Night diving specialty. If you would like to try this give me a shout.
With regular good boat diving in our near future I will run a special on the Advanced course for four people. If you want to know who else is keen let me know and we can get started
The specialty for April will be Night diving so dig out your torch and charge the batteries.
The Dive Site
This is a free magazine and by far the best diving magazine in South Africa. You get a free online weekly version and a print version every quarter for free. All you have to do is sign up for it. I have been on the list since day one and have never been spammed so I can assure you it is produced by a quality company: www.thedivesite.co.za.
Permits
I can't end a mail without a gentle reminder about permits. If you don't have one, please get it tomorrow!!!
For those of you that read our blog you should know that thanks to Clare it was rated as one of the top blogs worldwide and had over two thousand reads in 24 hours. If you have not visited it you should as there are most likely pictures of you on it plus it has a lot of diving related information.
regards
Tony Lindeque
076 817 1099
www.learntodivetoday.co.za
www.learntodivetoday.co.za/blog
Diving is addictive!