We have had a lot of lousy weather lately resulting in the boat diving being cancelled almost every week since the beginning of the year. With a Deep Specialty in progress this has been a huge setback. With the prospects of a deep boat dive diminishing we decided to do a deep dive in the quarry.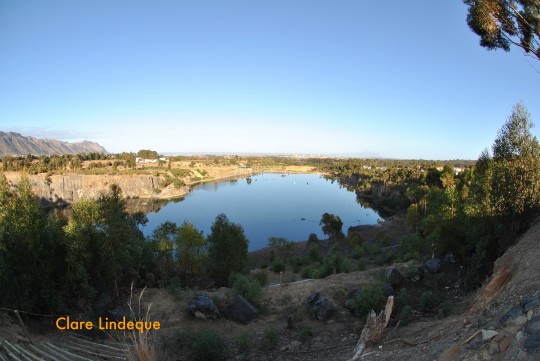 Blue Rock Quarry is situated just outside of Somerset West and is so named for the blue rock harvested there years ago. When it fell into disuse, it was filled up with water and now plays host to a range of watersports and recreational activities.
We chose a spot that had a depth of close to 50 metres as we were looking for a maximum depth of 40 metres. The water looks clean and inviting from the surface and in fact the visibility is very good despite the total darkness that surrounds you from around 30 metres.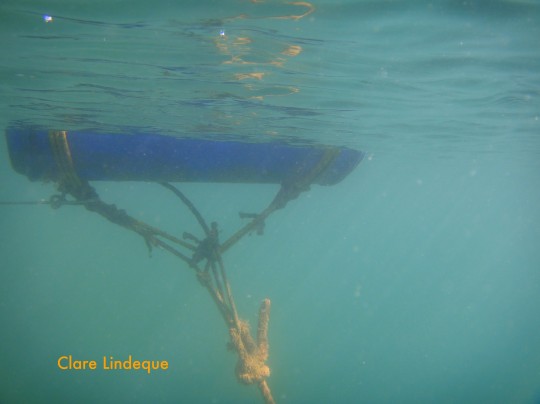 Cecil, Clare and I entered the water here, where a line goes down the wall to a ledge at about 25 metres. The water is clear providing you do not rub a fin, finger or bubble on the walls as this results in a cascade of silt and fine rock rubble which takes a fair amount of time to clear.
We had planned to stop at 20 and again at 30 metres on the way down but due to the poor visiblity  we stopped a few more times just for me to make sure Clare and Cecil were still above me on the line.
At 30 metres we encountered a tree. The branches sticking out in all directions are a huge hazard in low visibility as entanglement is a real possibility. We moved away from the tree and picked up another cable that I reckon runs down to nearly 50 metres.
At 34 metres the water was very dark, and visibility was reduced to almost zero due to the silt dislodged by us on the cable. I stopped at 34 metres and shone my light down; directly below me was another tree.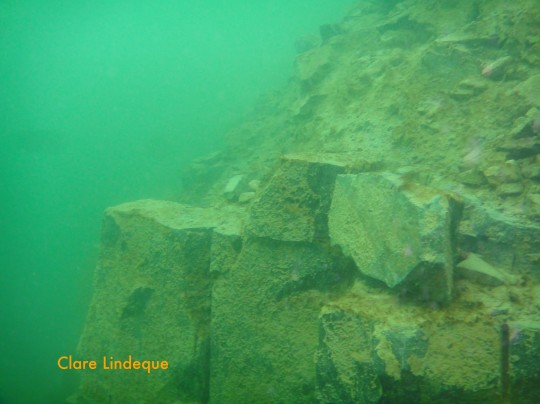 We could move away from the line and descend further or turn the dive here. We did the skills required for the dive at this depth and started our ascent. Ascending was slow and deliberate, with planned stops at 20, 10 and 5 metres.
We did not see any life except for one small freshwater crab spotted by Clare. You don't do this dive to sightsee!
Things to remember for a fresh water dive: weighting is critical, and you must remove weight for this dive. A good dive light, a back-up and cyalumes or strobes are also required plus a detailed dive plan. The quarry is also used for wake boarding and cable water skiing and a circular raised cable drags the skiiers around the perimeter so an ascent off the line is out of the question.
Dive date: 26 March 2011
Air temperature: 25 degrees
Water temperature: 12 degrees (much warmer on the surface, over 20 degrees)
Maximum depth: 34.4 metres (33.6 metres according to the dive computer, adjusted by 2.5% for fresh water)
Visibility: 4 metres
Dive duration: 23 minutes
As a facility for training the quarry is an option but having dived many quarries in my life I would much rather choose an angry dirty ocean to a quarry.