Sea Change: A Message of the Oceans – Sylvia A. Earle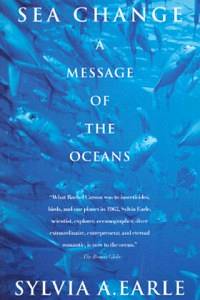 Sea Change is an earlier work by Sylvia Earle, she of the ocean atlas and The World is Blue. She has had a long and fascinating career doing everything ocean-related you can imagine.
The book is one-third an account of her career as an ocean scientist, from her first experiences underwater to building submersibles to explore the depths, to positions in government agencies. The rest of the book covers the perils of overfishing (in a more readable way than Charles Clover does) and the value of fish, whales and other marine life as part of a fully functioning ecosystem.
There is a fascinating section on oil spills, including an account of the Exxon Valdez disaster, and the damage wrought on the Persian Gulf in the early 1990s by the war between Iraq and Kuwait. Saddam Hussein didn't just murder Kurds.
Considering the book was written in the mid 1990s, much of what Earle says is eerily prescient, and her voice was joined by others' as the 20th century drew to a close.
You can purchase the book from Loot.co.za or Amazon.com.