I've been wanting to arrange a chamber dive for a while. Hyperbaric chambers are like large geysers that can be pressurised to higher than atmospheric pressure. They are used in medical applications – breathing oxygen-rich gas at high pressure assists with all manner of complaints – and of course, in diving medicine for the treatment of decompression sickness. They are also used in commercial diver training.
A chamber dive doesn't involve water, scuba gear or buddy checks. It simulates the experience of breathing compressed air from a cylinder at the bottom of the ocean by putting you in a sealed metal chamber, pumping air into it to the required pressure, and decompressing you slowly after leaving you there for a while. It's perfectly safe. There's an intercom so the chamber operator can hear you at all times, and we were supplied with a rubber mallet for knocking on the chamber wall in emergencies while the pressure was being adjusted (which is a noisy process, like sitting inside a jet engine).
The chamber we visited is on campus at the University of Cape Town and is used for commercial diver training. Eight of us did a chamber dive to 50 metres (in two groups of four). This is 10 metres deeper than Tony and I are qualified to dive in the ocean (with a Deep specialty qualification), and 20 metres deeper than an Advanced diver is qualified to go. An Open Water diver can go to 18 metres. The only requirement for this dive was an entry-level dive qualification, so Open Water was fine.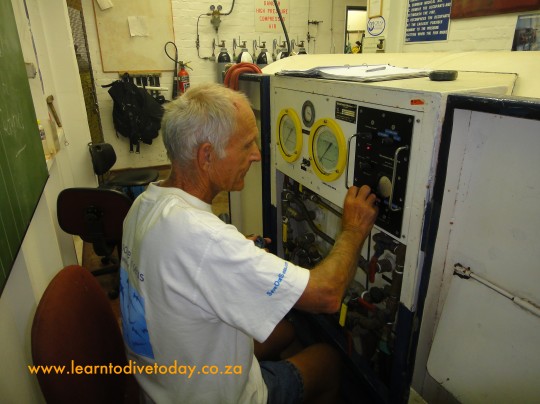 Paul, the chamber operator, checked that none of us had any plates, pins or bolts in our bodies. It turns out that both Goot and Tami are semi-bionic, and they were told to move the affected limb (or jaw, as the case may be) to ensure blood flow throughout the process. Nitrogen bubbles would be more prone to form around a screw or other metal fixture interrupting the natural shape of the bone. We were told to sit with our legs as straight as possible, arms uncrossed, to ensure that blood circulates well throughout the dive. He warned us that if we have a panic attack at 50 metres there's nothing to do except sit on the affected diver, because once the chamber is pressurised it cannot be depressurised quickly without serious – life-threatening – risk to the occupants. For this reason we had a stop on the way down, at 9 metres, to check that everyone was still happy.
The chamber is pressurised to six atmospheres by pumping air into it. The pressurisation was done quickly – it took two minutes (with a brief stop at 9 metres to check that we were all right) to take us down to 50 metres. We had to equalise like MAD, literally every couple of seconds, and the chamber got very very hot inside as the air was pumped in. Boyle's law at work… Constant volume, increasing pressure!
We spent about eight minutes at 50 metres. It was an intensely strange sensation. I felt the same light-headed hot scalp feeling that I experienced last time I was seriously narcosed, in Smitswinkel Bay, but magnified to the point that I felt drowsy and woozy and quite chilled. Our voices sounded as though we'd been inhaling helium, and EVERYTHING was very funny. I had a very nice feeling of well-being but wasn't really interested in complicated conversations.
We had our dive computers with us in a bucket of water, and checked them periodically to see what they were telling us. Tony had his Mares Nemo Wide set on nitrox 32%, and it was flashing at him that we were perilously close to the maximum depth at which it's safe to breathe that mixture. As expected, it gave us more bottom time than the computers that were set on air before it went into deco.
I distinctly remember trying to interpret the array of numbers on the screen of one of the dive computers, and handing it back to Tony and saying vaguely, "I don't understand what all these numbers mean" – VERY odd for me because my entire job revolves around the complex manipulation of numbers, and I have a great fondness for statistics of all kinds!
As the chamber was depressurised, we experienced Boyle's law in the opposite (very welcome) direction: the air cooled rapidly and mist formed to such an extent that at times I couldn't see Tami, who was a metre away from me. There was a little bit of coughing from irritated lungs at this point!
The first group degassed by spending 5 minutes at 9 metres, 5 minutes at 6 metres, and 10 minutes at 3 metres. This is an extremely conservative decompression schedule and fulfilled all deco obligations plus more after the bottom time that was experienced. All our dive computers would have allowed us to ascend long before Paul let us out of the chamber! The second group, in which Tony and I were, had an even more conservative decompression schedule because of the particular age and physical profile of our group, and we spent 5 minutes at 9 metres, 10 minutes at 6 metres and  a full 15 minutes at 3 metres.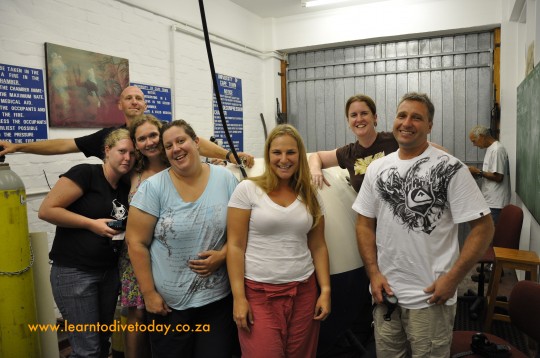 Dive date: 8 March 2011

Air temperature: 26-31 degrees (inside the chamber)
Water temperature: what water?

Maximum depth: 50.4m
Visibility: wall to wall (so about 1.5 metres!)
Dive duration: 40 minutes