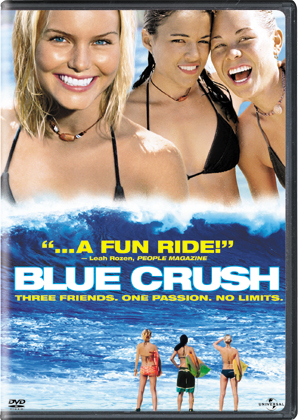 Blue Crush isn't a diving movie, but it's a light, enjoyable surfing film with some lovely surfing sequences. If you love the ocean, there's definitely something to enjoy here.
Set in Hawaii, it follows three girls who seem to be living every teenager's (mine at least) dream. There are no parents in sight, and school is a brief distraction on the way to the beach.
There's a plot of sorts, with a surfing competition and a love interest, but (possibly because I'm a girl and wasn't that fascinated by the bikini parade!) the waves are the main event here. There's some super underwater photography and the surfing shots are exhilarating. The beauty of the Hawaiian coastline – this film, Magnum PI and (surprisingly) Into the Blue 2 have made me want to visit it – adds variety to the seascapes.
The healthiness of the surfing lifestyle that comes across is similar to that of diving – you can't drink too much, or take drugs, or party too late at night, if you expect to perform at your peak the next day.
You can buy the DVD here if you're in South Africa, otherwise click here.