I've described (and illustrated) the remarkable ability of starfish to regrow limbs when they come a cropper. But sometimes we see starfish that are stubbornly resisting the five limbs trend… Either they haven't started growing new legs, or they're just in equilibrium with the number of limbs they have. Sometimes more than five!
One
We couldn't decide if this guy – essentially just one leg – was alive. The leg appeared to be hanging onto some sea lettuce, and all the little tube feet were intact. I touched it, and it felt like part of a live starfish (I am intimately acquainted with the feel of starfish from my time at the Touch Pool). Good luck to him! I think he should be known as a linefish until he proves otherwise…
Two
Here's our wedding starfish, who obligingly lay in a heart shape for us! Shannon, who made our invitations, transferred his portrait to her design in shades of blue. So he looked arty and unique, and, I thought, very beautiful.
Three
I found this three-legged sea star on the SS Cape Matapan opposite Cape Town Stadium. It was fitting, because Tami was my dive buddy!
Four
This guy who we found on a dive we did on the Romelia doesn't seem to need his fifth leg – he's showing no signs of developing a new one and looks exceptionally healthy!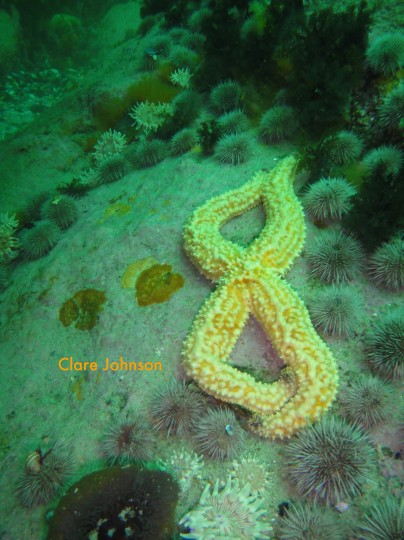 Five
For five legs – boooooring! – you can go here! (Or, here.)
Six
Finally, I leave you with a starfish for whom five legs just wasn't enough. We occasionally see these specimens, where it seems that the "regrow leg" instruction got repeated too many times. This one was also on a dive we did on the Romelia. Count his legs carefully…