Tony's fabulously talented friend Ian took this beautiful photo of me and Tony at Cape Point in April last year, while he was lying on the beach behind us stalking birds. Tony and I were admiring the (very) early morning light and huddling together for warmth. As you can see, Tony wasn't really dressed for the weather, which was rather windy as I recall.
(The name Old Man and the Sea – of which Tony is not particularly fond – was Ian's invention, and he made me say it several times while laughing uproariously. What are friends for?)
My fabulously talented father (Evan Johnson) then did this painting for me and Tony as a wedding present: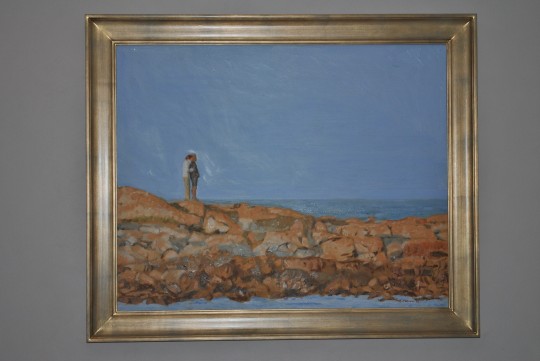 While I'm punting the skills of family and friends, my dad also did the cover painting featured on the 3rd edition of Hal Blaine's autobiography – the Amazon.com page for the book (Hal Blaine and the Wrecking Crew) is here.