So, you have just qualified as an Open Water diver. Congratulations, the world's oceans are there for you to explore. An often asked question is:
What's next?
Advanced. One word, and that is often what you will get from anyone, including your instructor.
However, a good instructor will sit you down and try and find out a little more about where you think you might go with your diving. At this point it is unlikely you will know: will wrecks be your thing? Underwater photography? Exploring little-known dive sites?
Many an instructor will tell you that whilst doing your Advanced course you will come to realise what you will like best. This is hardly likely. Will one dive on a wreck be convincing enough? Will one dive with a camera have you rushing out to buy R20,000 worth of underwater photography equipment?
What if you decide photography is your thing… Do you choose to do three photography dives as part of your Advanced course? Can you? Do you even need to do an Advanced course if you love underwater photography? Or perhaps deep diving is what your heart desires. Will your Instructor take you on four deep dives for your Advanced course?
There are a multitude of questions and the answers are not always clear until you have done some diving. The whole idea with the Advanced course is to do the two core dives – navigation and deep – and three adventure dives, in the hope one of the three will entice you to do the corresponding Specialty.
It often does, and sadly this is likely to be where a diver stops exploring the opportunities available. A diver does a photography dive, rushes off to buy a camera, and this becomes his main focus. Don't get me wrong – there is nothing wrong with this – but what you do is limit yourself if you choose this path.
Often a new diver will decide Divemaster is the goal, so they do Advanced, Rescue and Divemaster. In as little as two months you have achieved this status, have done 60 dives and are now ready to go and work and earn an income for doing what you love. Sounds great, and it is, but are you ready for everything?
You land the dream Divemaster job in a tropical location – awesome! The first day you get to take a group of 12 on a night dive. Hmm, oh yes, you did do one during your Divemaster training, or perhaps two, or maybe not… Can you safely say you are ready to take 12 strangers on an underwater exploration at night when you have no experience?
Day two the group want to explore a deep reef, so off you go with twelve strangers to a depth of 30 metres. You did one deep dive for Advanced, possibly a few during Divemaster – are you ready? The next day you take 12 strangers to a site with a raging current. Have you done drift diving? It is an amazing experience when everyone drifts along with you but have a few stragglers, a few who swim against the current and suddenly your group of 12 are scattered all over the ocean.
Yes, you are a qualified Divemaster, but it could be you have little or no experience in drift diving, night diving, wreck diving and everyone's favourite, deep diving. Sure there are Divemasters with all of this experience, but they are few and far between. Some Divemasters have never dived with a camera, and they get frustrated when the have a group of photographers to lead who are content to move no more than 20 metres from the entry point because there is so much to photograph.
So the question again, "Whats next?"
You should dive, as much as you can. If you want to combine this with furthering your diving qualifications, that's great, but you don't have to. I dived as an Open Water diver for 18 years, and didn't feel as though I was missing out on anything. Plus, after all that time in the water, I was a capable and confident diver already when I started to do more dive courses.
Local diving varies from city to city and country to country. Depending on where you plan on doing the majority of your dives, have your instructor advise you on the best, but many different, options. In any event, to build on your capabilities underwater try and choose a path that will cover a wide range of diving environments and give you some solid experience.
My opinion is do more than one of your Advanced dives using a compass, so you are comfortable with how they work. Many of Cape Town's dive sites are shore entries and being a good navigator eliminates long surface swims.
Also, do more than one dive to a depth greater than 18 metres. You are going to be qualified to dive to 30 metres after the Advanced course, so be sure you are comfortable being at 30 metres.
If you decide to do Specialties but are unsure of which, consider where you will dive. For example in Cape Town I would suggest you do a Deep Specialty and have your instructor conduct some of the dives on wrecks. This will get you to a point where you are comfortable with greater depths (Deep Specialty will qualify you to 40 metres). If wreck diving is your passion a Wreck Specialty is a must, as is Enriched Air diving as this extends your bottom time, a valuable commodity at most of the wrecks in and around Cape Town.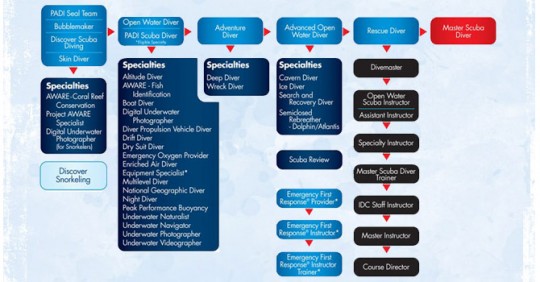 These are just a few of the options, so dust off the Open Water manual and see just how many different routes there are. Choose wisely! And remember to dive as much as possible.