It's fairly well-known that starfish are able to regrow their limbs after losing them. We see a huge variety of these brave chaps while diving – some in the process of growing their legs back after a tussle with a fellow marine creature, and some existing quite happily with an unconventional number of legs (more on those in a separate post). I hope these guys are proud of themselves for fighting back! Here are some of my favourite specimens from the past few months…
Here are two starfish who have lost legs and are growing them back. The starfish at Long Beach are living on the sand, and have to move around a lot to find dinner. One of the advantages of being radially symmetric (built on a circular design) is that you can move in any direction without having to turn around or re-orient yourself. I guess this makes growing new legs a priority.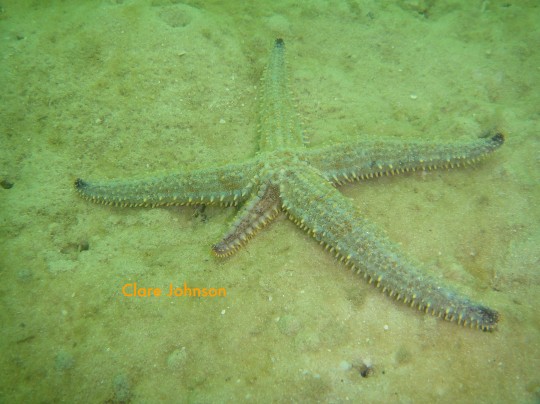 There seems to be no limit to how small a remnant of the starfish needs to be left behind before it'll start growing legs again. I couldn't figure out what this was when I saw it towards the end of a dive at Long Beach, but when I examined the photo at home I realised it was the tiniest fragment of a spiny sea star, on his way to becoming a functional member of starfish society again.
Here's a close-up of a growing leg. Tony and Tami were quite impolite about this particular image, but I won't tell you what they said about it!
Then there are the dudes that just don't make it. This last (somewhat grisly) picture is of the remains of two starfish legs.