I often dive with Tony and his students. Often the students need a briefing in the water before we descend. Sometimes they struggle to get down. First time divers often need a minute or two to acclimatise to being underwater in the ocean. Whatever the reason, I spend a fair amount of time lying on the bottom in less than two metres of water, usually at Long Beach, waiting for the dive to begin. This is a pleasure that one enjoys only on shore dives, when one can swim down a gently sloping bottom enjoying the marine life as it changes with depth.
I've learned so much there. The sunlight is bright at that depth, and even though the gently sloping bottom just looks barren and sandy, close examination is always rewarded. On my way up the beach at the end of a dive, my eye has been attuned to notice the little creatures that I might miss initially, and it's always a delight to be back in the sunlight again.
It's at this depth that we often see the three spot swimming crabs. Their shells are often washed up on the beach, with a mournful face design, but the crabs themselves are confident and aggressive. More than once I've been faced with one who looked as if he was fixing for a fight, and would gladly take me on. We also frequently see a large crab accompanied by a small one – apparently the female is large, and her special man friend is much smaller.
The shallows are where I see lots of gorgeous molluscs of various types. Fat plough shells have magnificent large feet, and it's a pleasure to see them ploughing (yes!) through the sand. They bury themselves in the sand with only their siphon sticking out into the water – you have to look carefully to spot these – and thus hidden, they can wait and smell and taste when something interesting comes along.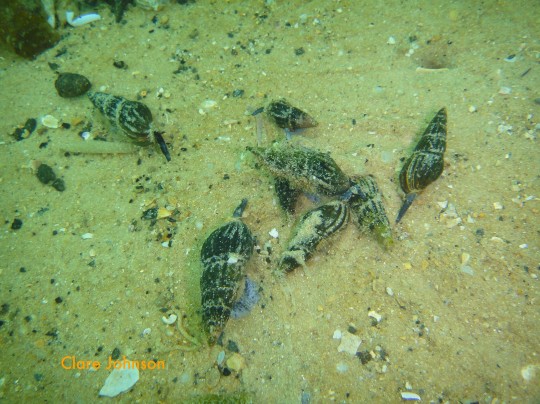 Sometimes we see great convocations of plough shells or ribbed turrids, gathering to munch on a tasty sea jelly corpse, or something else that a mollusc thinks is a good meal. They appear as if from nowhere, but actually they've been waiting beneath the sand for this opportunity to arise.
Helmet shells have smaller feet, but very attractive black and yellow striped feelers that they wave enthusiastically as they motor across the sand. As a child, I was incredibly excited to find one of their empty shells. As a grown up (mostly) scuba diver, I'm even more excited to spot one on the move.
It's in the shallow water that we also sometimes see bluefin gurnards. Here's one camouflaged against the sand.
These fish look quite bland at first – much like barehead gobies – but when they spread their fins out, you see where their name comes from. Each round fin (looks like wings) has a brilliant blue spot on it. They have little barbels under their bodies that they appear to walk on, and they move INCREDIBLY fast. This photo was taken by me trying desperately to keep up!
Even on a night dive, the shallows can be an exciting place to be. Tony photographed these green surf mysids as they swarmed around our lights at the end of a night dive last year. When we got home and washed our kit, we found that quite a few of them had hitched a ride in our BCDs!