There are a couple of different species of catshark found in Cape Town waters. These sharks grow up to 1 metre long, and if seen during the day they are generally sleeping. They have small barbels on their faces.
The leopard catshark has intricate dark markings on its back, on a white or blue background. It's colouration is apparently highly variable – I've only seen this beautiful white specimen on the SAS Pietermaritzburg.
The pyjama shark or striped catshark is mostly nocturnal, and spends its days sleeping. They have attractive blue stripes and really do look as though they're wearing PJs made of ticking. Like shysharks, pyjama sharks may curl into a ball when threatened.
Tony found these sleepy specimens piled on top of one another inside the pipeline at Long Beach one day. We have seen them swimming around at night.
These sharks are considered "near threatened" by the International Union for Conservation of Nature (IUCN), because it is fairly localised in distribution and often appears in bycatches.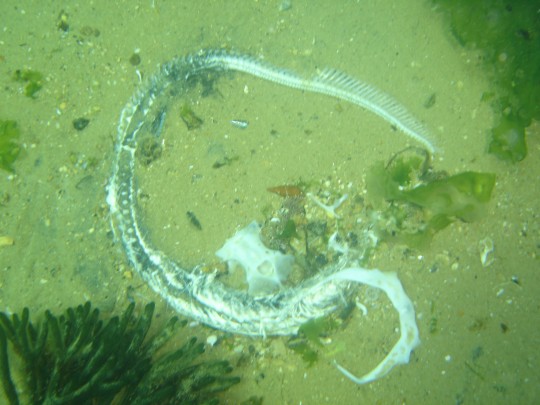 Both these species of catshark are slow-swimming, opportunistic feeders, eating squid, octopus, other small fishes, and invertebrates.