Anyone who's had the misfortune to set foot in a shopping mall lately will be aware that Christmas decorations are out, and Christmas shopping is in full swing.
If you have a diver, or potential diver, in your life, getting them something to do with their hobby as a Christmas or Hannukah gift is a good idea. Lucky for you, Learn to Dive Today has suggestions for all budgets!
Under R300
Check out the bookshelf category for book ideas, and the movies and documentaries categories for DVD gift ideas.
Under R1000
What about a Discover Scuba Diving gift voucher from Learn to Dive Today? The Discover Scuba Diving (DSD) experience is designed for people who have never dived before, and want to try it out – perhaps before committing to a full Open Water course, or perhaps just for the experience.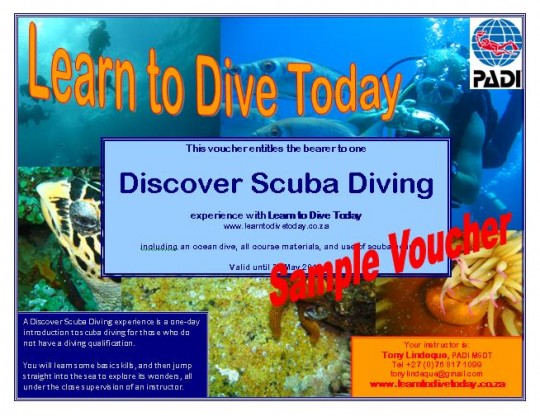 You'll meet at the beach, have a short briefing explaining the gear and basic dive principles and safety, and then go in the water. Tony will teach you a couple of essential skills – very basic things like mask clearing – and then you go for a dive. That way you get to experience what it's like to be a diver, first hand, to see if the bug bites!
If you enjoy the dive and want to take it further, you can get the cost of the DSD credited towards your Open Water course.
If you want to order a voucher, email Tony.
Over R1000
Can I get on your Christmas list?! You might find possible gifts in the Gadgets and Gear category – from dive gear to cameras…
Any budget
Have you considered making a donation to the organisation of your choice – Reach for  a Dream, the NSRI, or SANCCOB for example – on behalf of your gift recipient? This is a very special gift that has the potential to do a lot of good in this world that so badly needs it, and impacts more than just the people giving and receiving the gift.