Bonica Snapper 1080P Dive HDDV
I recently switched from my Sea&Sea 1G and underwater housing to a digital video camera manufactured by Bonica, specifically for underwater use. Finally the long awaited moment arrived and the Bonica underwater video camera arrived.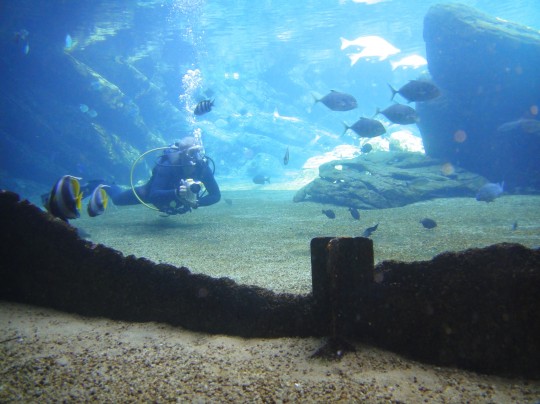 Specifications
The camera is compact to say the least, and has a tight fitting silicone skin that enables you to snorkel and play in the pool without the housing as the silicone skin is waterproof to 3 meters. I doubt I will ever test this as what's the point of having a housing and not using it?
The camera housing looks sturdy and robust, has three clips and a wide, deep-set O ring. The camera has strong specs, resolution of 8MP (3200 X 2400) for stills and 1440 x 1080 HD video. It has a 3x optical zoom and can handle 60 fps in HD.
Storage is on an SD card and it is claimed to be able to handle up to a 32GB SDHC card. I have a 4GB card and a spare which is plenty. Besides, the battery is only able to give about an hour and a half so a battery change can coincide with a card change. The screen is a 2.4 inch and I found it a little difficult to see clearly without a shield of sorts to prevent glare on the window.
Accessories
The accessories I have are a wide angle lens, this must be unscrewed and tightened underwater otherwise an air pocket remains giving you a line across the centre of your movie.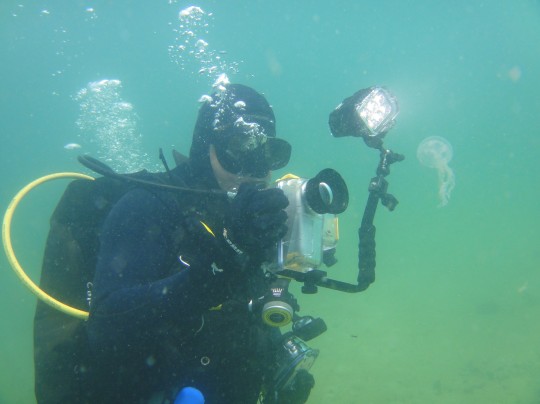 The camera also came with an orange filter for the ocean and a yellow filter for fresh water, an arm for the light and a single 6 diode light. The light has two settings allowing you to either use full power or a setting where you can dial the brightness up or down. It takes 8 AA batteries and I chose Hahnel 2800 NiMH rechargables. I always test batteries before I use them and these babies had my light burning brightly for 3 and a half hours with no sign of letting up. This was test enough. (Remember to leave any underwater lights in water while testing as they may overheat.)
I have attached the wide angle lens cover to the lanyard with a short string. This keeps it from getting lost and keeps it out of the way while filming. I also made a small plastic shroud as a lens shade to reduce the glare and enable me to see the LCD screen a lot easier.
The controls are really easy to use and switching from video to still is one button press. The power button is away from all the others so it is almost impossible to turn it off by mistake. I was a little puzzled as to why the camera comes with two remotes, but hey, I am not complaining.
The quality is exceptional, keeping the camera steady and moving really slow is going to give you really good footage and the auto focus is fast.
Dislikes
The housing hinge pin is showing signs of rust after a short time; this has also happened with every other camera I have. The answer seems to be to remove the pin from time to time, clean it and slide it back in with some silicone.
The swivel on the light arm broke after a few days and I removed one of the two balls it swivels on, as this is adequate for the required angles you my want your light to be at.
The microphone records all the sounds of the zoom and this needs to be fixed during editing. All you do is add a pleasant tune to the movie clip and its all sorted.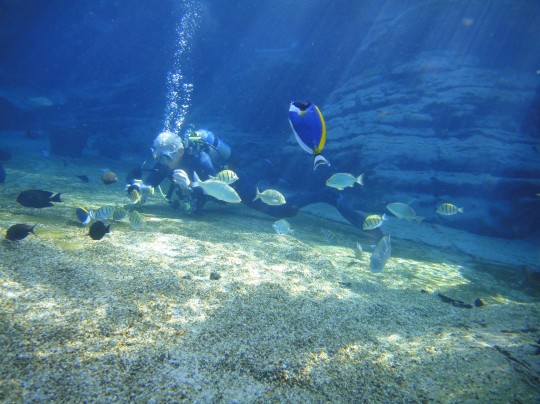 Verdict
Overall the camera is exceptionally good value and the quality of the footage is amazing.
Footnote
Windows Vista does not handle the file size very well. My computer has 1GB of RAM and this is barely adequate – it is recommended you have at least 2GB… But hey, that's a Windows issue and not the Bonica.