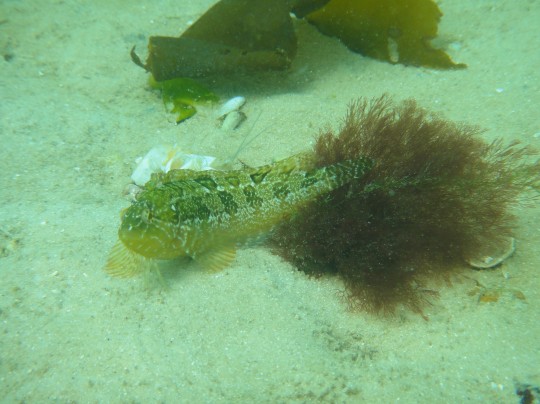 I find klipfish the most frustrating creatures to identify – they come in a bewildering array of colours and patterns, and I am waiting impatiently for Guido Zsilavecz of SURG's book on klipfish to be completed!
Klipfish are lazy swimmers, and green and brown ones are usually seen very well camouflaged among fronds of sea lettuce or kelp. They tend to move in exactly the same way as the seaweed, allowing themselves to be pushed around by the surge, which makes them hard to spot.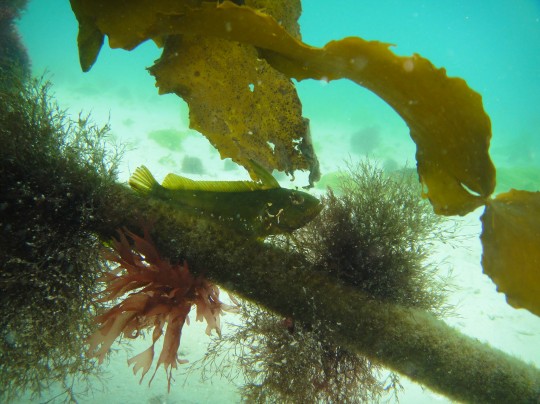 There are also the more colourful variety – busy purple patterns being the most common – who hide themselves where there's a lot of coraline algae and other purple seaweed growth. While they tend to spend most of their time curled lazily against the side of rocks or on the pipeline, they can swim away with startling speed when they feel nervous.
These fish usually seem to be solitary, but Tony and I saw a pair of them fighting – we think – at Long Beach a week or two ago. Since they seem fairly territorial, that may have been the source of the dispute. Whatever they were doing, it was the first time we've seen more than one of these fish in the same place, let alone interacting.
On Saturday I met a klipfish at Long Beach who was incredibly tame. He submitted to (and seemed to enjoy) having his chin tickled, head butted my mask a few times, and nibbled at my bubbles after trying to swim into by BC. I was interacting with him while Tony was doing the CESA skill with a student, and it was wonderful. Feeling that the fish are noticing you, rather than just swimming past oblivious (or hiding in panic), is very special.
Here's an extremely dodgy video (the sea lettuce was somewhat annoying) of me and Corné (with the orange SMB) having some quality klipfish time.
[youtube=http://www.youtube.com/watch?v=9f4OV41unEc&w=540]