The fourth dive we did (second dive on our second full day in Sodwana) was to Pinnacles, a beautiful site also on Two Mile Reef. The sea was quite rough and kitting up on the boat was not much fun, but dropping down onto the myriad gullies and rocky outcrops covered with coral was a wonderful relief.
The site was full of overhangs and sandy gullies for exploring, and Tony had a blast with his video camera. Several times he almost disappeared into cracks in the rocks in search of elusive sea life.
The sand did make still photography a bit tricky, and although I did see some lovely fish – including a clown triggerfish, of which I am very fond – I did not get many decent fish photos.
I did manage to capture some coral polyps retreating into their hard structure after being disturbed (at right in the photo). Compare it to the same kind of coral behind and to the left of it in this photo: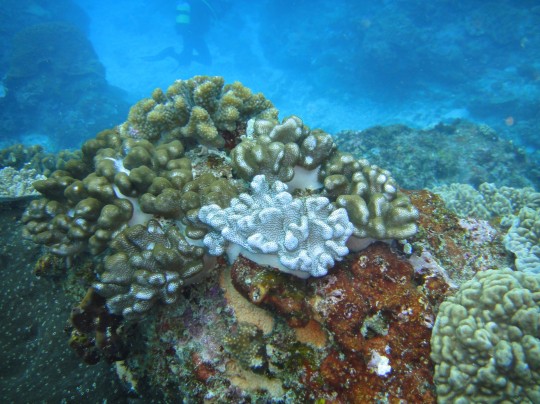 During the dive we passed by a feature called the Anvil – aptly named, as you can see below!
This was a short dive and long wait on the boat for me as I surfaced with Tami when she got low on air, and then was too much of a porridge-head to think to go back down and explore some more (I still had 120 bar in my cylinder), even though I could see the other divers below us. The dive site was gorgeous, but it was the second dive on quite a surgy day and thus both my stomach and my energy levels were giving up the ghost!
Dive date: 9 October 2010

Air temperature: 24 degrees

Water temperature: 22 degrees
Maximum depth: 10.9 metres

Visibility: 20 metres

Dive duration: 34 minutes