Sony Cybershot DSC-TX5 and MPK-THJ marine housing
I am a devoted Sony fan for compact digital cameras – my first (and only to date) digital compact camera was a Sony, and it's given excellent service and taken brilliant photos over the last five years.  Underwater digital photography equipment is very expensive – often in the case of DSLRs the underwater housing costs multiples of what the camera inside costs, and it can be very bulky. I can't get a marine housing for my existing digital compact camera, and I have had no interest in taking my DSLR underwater – it's just too big, and I can't bring myself to spend three times the value of the camera (a Nikon D3000) on a housing.
Sony has been making marine housings for years, and they are small, light and – in the case of the newer models – incredibly easy to operate. Tony has one of the original ones, and I've done a few dives with it. On the digital photography dive for my Advanced course at A Frame, I actually gave up in frustration (and had to repeat the dive – first time in my life I've had to repeat a class!). We were diving in quite strong surge, and I felt as though I was trying to take pictures out of the window of a moving car. The original Sony housings also have a different button configuration to the newer ones – much stiffer, closer together, and harder to distinguish from one another. I kept turning the camera off instead of pressing the shutter release button.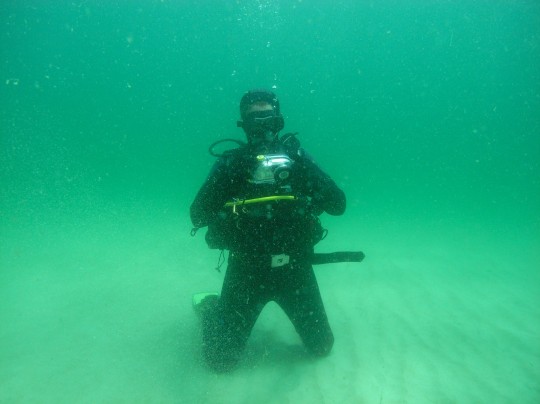 After a year of dithering, and wondering whether underwater photography is for me (land-based definitely is), I finally caved and bought a Sony Cybershot DSC-TX5 compact digital still camera with the corresponding MPK-THJ marine housing. I chose the DSC-TX5 partly because the camera itself, minus the housing, is waterproof to 3 metres – so you could theoretically take it snorkelling or in the swimming pool. This gives me a lot of comfort, because if the housing floods (generally not as dramatic an event as it sounds – it's usually just a few drops of water that leak in, not the whole ocean), I know the electronics won't necessarily be fried.
The camera also has a respectable optical zoom (4x – I switch off digital zoom because it just degrades picture quality), and a 10-odd megapixel sensor. The LCD is a touch screen, and absolutely massive – very easy to see what you're focusing on underwater.
The housing is small enough to fit into a tiny Woolworths cooler bag before and after dives (to prevent it from fogging up in the temperature change), and weighs just enough to feel substantial but not too much to feel bulky. It's quite comfortable hanging from my wrist or a clip on my BCD if my hands are otherwise occupied. I can hold and operate the camera with one hand, which is super if you need to hang onto a rock or piece of kelp for stability with the other!
I've used the camera on three sea dives (the first one to 30 metres – a baptism of fire!) and once in a swimming pool so far. It's a dream. The buttons are responsive and easy to use, even when I am wearing my thick gloves. The shutter release button isn't actually a button, but a lever that makes it very simple to depress. There can be no confusion with the power on/off button which is great! There are dedicated underwater still and video modes which boost the red, and several white balance settings depending on the water colour – blue, green, etc.
It focuses quickly, and works very well in low light. I am still figuring out macro mode – the camera doesn't like to be zoomed (4x optical!) and then asked to focus – it prefers to acquire a target, and for the zoom to be activated subsequent to that.
On the deep dive, the flash did cause a fair amount of backscatter – visibility wasn't great to begin with, and there's not much light at that depth. But it's a powerful little flash with a diffuser built into the housing, and the camera battery lasted for approximately 250 photos over two successive dives (in cold water) with the flash firing for every single one, plus about another 50 I took of whales from the boat. The recharge time for the flash is very quick.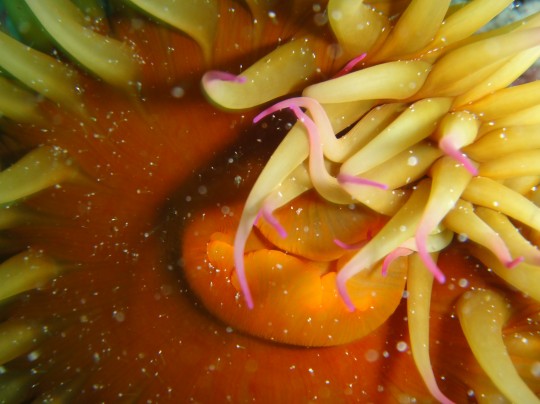 The only annoyance I have had so far is that I can't figure out how to switch off the automatic preview after I've taken a picture. I generally want to fire off a few shots in succession, not wait around while the camera shows me what I've just taken – particulary in the underwater environment, if you miss the shot then it's gone. The preview also chows battery! It's not clear whether you can deactivate this feature without going into burst mode, which would deactivate the flash.
I'm looking forward to taking a zillion photos in Sodwana!