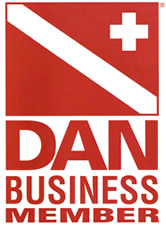 I'm happy to announce that Learn to Dive Today is now a DAN Business Member. By supporting DAN we are helping to improve dive safety standards for everyone, and doing this will also enable us to provide an enhanced service for my students. As a DAN member, I am able to arrange free diving-related emergency insurance cover for my entry level (Open Water) students for the duration of their dive courses.
DAN, which stands for Divers Alert Network, is a non-profit organisation that provides medical advice, research and insurance for diving related injuries and emergencies. They are at the forefront of diving safety and we are proud to be associated with them.
You'll notice the DAN billboards at several of the popular Cape Town dive sites, with emergency procedures and contact details. There's one at Long Beach and one at Miller's Point.