Don't talk about soup sandwiches, cheesy garlic rolls and other such topics on the boat while someone is throwing up… Be nice!
Don't walk around the boat once you have your weight belt on. If you fall in the water we all laugh first and then try to rescue you, and by then you may be on the bottom… Not nice!
Don't rinse your mask, fully kitted up or while the boat is moving… You will lose it (or fall overboard) and we will all laugh again… You then get to sit on the boat while we dive… Not nice!
Don't shout "yee haa!" when the skipper gets the boat airborne on a huge wave… Its embarrassing enough with just you lot watching him fluff things, so when you shout everyone on the beach looks as well… Not nice!
Don't all rush to one side of the boat when someone shouts "dolphins!" The boat becomes unbalanced and the skipper (or a diver) sometimes falls off… Not nice.
Don't call your mask  goggles, your fins flippers, your weights sinkers and your cylinder a tin of oxygen… Your Instructor gets embarrassed and gets a beer fine.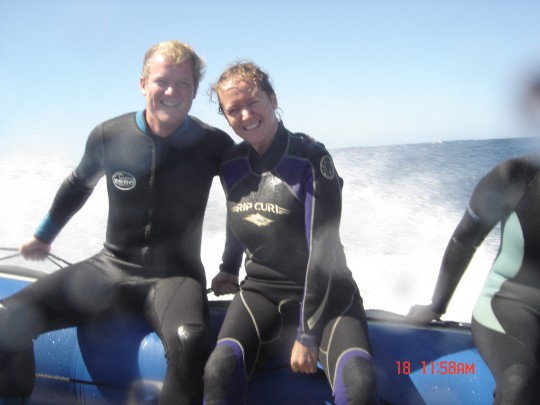 Do check that your buddy is on the boat after a dive as most skippers and some DM's went to night school and can't count during the day. Plus it's a waste of fuel to drive all the way back to the dive site to fetch him if you forget.
Do make sure your air is on before you fall into the water… Look at your gauge, take a few deep breaths, and if the needle fluctuates you air is not on. If you can't breathe at all, it is also not on…
Do remember to shout "man overboard!" if your male buddy falls in the water, but please shout "girl overboard!" if your buddy is not male… Girls are sensitive about these things… Besides if a girl falls overboard all the guys do too… to help… This makes the boat fast and the skipper falls off…