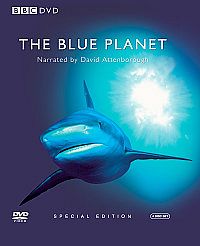 This BBC documentary is an exploration of the world's oceans, from tropical to beneath the ice. It provides insight into the fragile ecosystems, the tides and currents that influence and sustain them, and the unseen behaviour of the creatures and organisms inhabiting the seas. The camera work is incredible (Tony and I spent a LOT of time trying to figure out whether scuba divers or remote cameras were used at certain points) and there is a special feature on how they filmed the series.
There is footage of blue whales (I nearly fell out of my chair), breeding coral, bioluminescent creatures, and everything in between. If this series doesn't make you want to be a scuba diver, I don't know what will!
As with Sylvia Earle's magnificent Ocean atlas, we were left amazed by how little of the ocean has been thoroughly explored, and totally impressed with the diversity of life in the parts we have managed to get to!
It's wonderful viewing for when you're sick in bed, want to dive but can't, or just need something beautiful and soothing (mostly – the killer whale bits aren't soothing) to feed your soul. The official BBC site for the documentary is here.
You can get the DVD box set here if you're in South Africa, otherwise click here.