The Dive Spots of Southern Africa – Johan & Amilda Boshoff
Local divers Johan and Amilda Boshoff have compiled a fantastic dive guide covering the best locations in Southern Africa. It's formatted and laid out especially for travellers, and I have used it to decide where to dive when visiting Durban and Knysna. The pages corresponding to the different provinces are colour coded, and there's also general information at the start of the chapter on each area which would be super useful for tourists.
The guide is illustrated with gorgeous photographs – the ones of Marico Oog have made me determined to visit it next time I am in Johannesburg and surrounds. (Did I mention that inland dive sites are also covered?) The authors provide a star rating system as well as symbols indicating the entry type (boat, shore) and whether it's a wreck dive. A symbol also indicates whether the site is suitable for snorkeling, which is useful if your travel buddies or family members like the sea but aren't divers (yet)!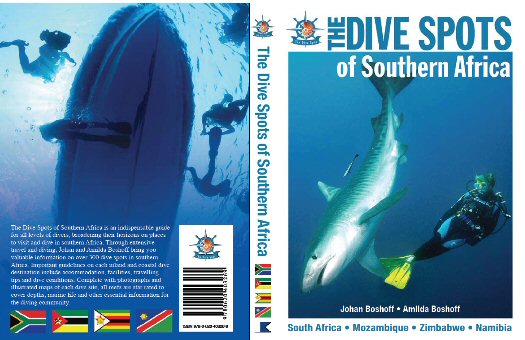 I'd recommend this book for diving visitors to Southern Africa, and also as a supplement to dive planning for local travellers. If you're living somewhere and diving there often (like me in Cape Town), you'll need something more comprehensive on a day-to-day basis (thank you Peter Southwood), but as a guide to what's available when you decide to hit the road, this book is quite useful.
The book is available from Loot.co.za or Amazon.com. The Boshoffs' website is here, with  a specific section devoted to the book.